In the ever-evolving world of fashion and creativity, adidas Originals finds individuals that are carving a niche for themselves and leaving an indelible mark on the world. ASHWARYA is one of those artists, an icon of self-expression and bold artistic choices, using her creative persona to bring audiences into her world. 
ASHWARYA's development as a creative entity was tied to the story of COVID-19 lockdowns in Melbourne. Releasing her debut single Psycho Hole in 2020, she was immediately thrown into the challenge of trying to get her music out there without leaving the house.
Creating music videos and building a fanbase on TikTok, ASHWARYA wasn't hindered by the parameters forced onto her by the pandemic. From her first EP, Nocturnal Hours, which was released in 2021, she's always been working to create a world of uniqueness and originality she can bring people into.
"The world of ASHWARYA is all the different alter egos of mine and the different characters that I want to put out, but they're all essentially a part of me. There's an element of a cinematic world in my music and I like to present my visuals in a cinematic way.
"I like to differentiate how people perceive me as ASHWARYA the artist versus me as an everyday human, or whatever people think I am on an everyday basis. I definitely step into character when I'm in artist mode."
Early on in her career she was compared to dark pop stars like Billie Eilish, but her music defies definition. ASHWARYA is completely unique, combining her Indian heritage; she cites Bollywood as a big inspiration and sings in Hindi on her tracks; with bold artistic ideas and emotive lyrics.
Her latest EP, Why Has It Got to Hurt so Much, takes listeners on a full journey through heartbreak. But her music isn't just about sadness and despair. As part of the layers of her artistic expression, she believes in weaving messages of hope through her songs.
"Letting go of the people that you love the most might be the best thing for you and you come out of it with a sense of peace. I like to storytell and contrast things, I don't necessarily feel like it needs to be one specific thing."
Collaboration is a huge part of ASHWARYA's creative process and how she show's the world her originality through art. She loves being pushed by her community where she says nothing is too wild or outlandish.
"It's pretty magical when you find moments in the studio where you're bouncing off one another. There's an unspoken energy when you're working with the right person, or you're in the right setting, then catching those moments on the mic or in the studio, that's the best way for me to write.
"I'm really big on who I work with and when I have people around me that are allowed to be as wild and crazy with their ideas, we can say or do whatever, nothing is too outrageous and nothing is too crazy, that's a really good environment to be in. You end up with a product where you know there were no short measures and everyone was allowed to be free with whatever they do."
This open attitude to inspiration isn't just for her music creation. ASHWARYA says she's been inspired across all aspects of her life by the people around her and her creative community.
"Finding [other] creatives that have a completely different taste or approach and being able to collaborate in a way where there's no ego, there's no 'no', and everyone is open to being expressive, I think that's really important.
"For me personally, when I'm writing or I'm coming up with an idea for a video, or picking out an outfit to wear for a shoot, it's always great to allow others to step into my world and bounce off one another."
It's been a journey from the early days of finding her community online to where she is now. Paying Groovin the Moo and Field Day, to an incredible last minute opportunity to open for Dua Lipa in Melbourne, ASHWARYA has hit so many milestones so early in her career and it's allowed her to connect to new audiences and inspire new fans.
Her purpose for her community is to empower them to embrace their uniqueness and express themselves authentically. Whether through her fashion choices, artistic collaborations, or social media presence, ASHWARYA encourages others to be unapologetically themselves.
"I feel like I'm quite a closed person in general, so when I get to be free and artistic, that's my outlet. I get to learn more about myself. Artists, or at least me personally, don't get to sit with our emotions because it's so full on and you're constantly thinking. So when you have a piece of art you can look back on, you realise that's how you were perceiving the world around you in that moment.
"I try to build a world around the music and let other people step into that little world of mine through storytelling, through the way I dress and the way I speak. It's all part of that world."
adidas Originals celebrates timeless pioneers and effortless originality. They gave the world an original and received a thousand back, like Ashwarya. Shop adidas Originals here.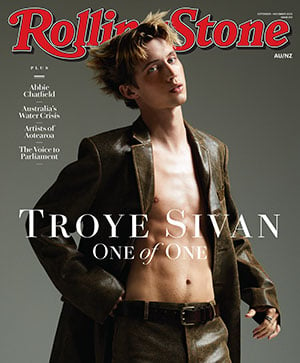 Get unlimited access to the coverage that shapes our culture.
Subscribe to Rolling Stone magazine
Subscribe to Rolling Stone magazine