The 2023 ARIA Awards were the best ARIAs I've attended. I've not watched the broadcast yet but it was a sentiment that was shared by almost everyone I spoke to on the night. 
That's big. The Australian music industry is often negative as fuck; we complain about everything, especially the ARIAs, so the significance of the positive feedback of the awards last night can't be overstated.
The event's production, managed for the first time in decades by Roving Enterprises, was world class. They set a new standard, making claim to be the go-to producers for the ARIA Awards every year moving forward. The event's format – seated tables with dinner and table service – struck a perfect balance, catering to both the live audience and the broadcast viewers.
I personally played a lot of musical chairs, sitting on a bunch of random tables throughout the night. It made the ARIAs fun. I went from speaking about politics with Dan Rosen to a deep, nerdy long chat about hip hop with Kwame.
A big thing I noticed from the chair-hopping experience was that so many dickheads from the music industry are now gone. People I bumped into, from all majors and indies, were super pleasant and in genuinely good spirits. No tension or bitterness.
It was all fun, something I haven't experienced at the ARIAs before. Usually the competitive tension sucks the joy out of every conversation.
The ARIA Awards Budget
The production and execution of the night was so impressive I'm almost certain it would have been a loss-leader with the major record companies funding the shortfall.
My guess is the night would have cost close to $3 million to execute, a figure ARIA wouldn't confirm for me so this is just my best guess.
With sponsors, broadcast support and ticket sales, my "back of the envelope" calculations expect their revenue to come in at about $2.5 million, which leaves a $500,000 shortfall (if you include all the production costs the major labels paid for their artist performances).
That may seem like a material loss backstopped by the major labels, however $500,000 is an incredible ROI for the recorded music industry to have such a spectacular event beamed into the homes of Australians.
Further to this, I imagine after last night's success more sponsorship dollars will pour in for next year and the night will hopefully be profitable in its own right.
ARIA CEO Annabelle Herd confirmed to The Music Network that the organition's goal for the Awards is to, "get into lounge rooms and social feeds of the Australian public, that is what ARIA is there for."
The ARIA Awards Judging Process
With this mass market goal of ARIA in mind, I think aside from the incredible event and broadcast, ARIA are perhaps holding themselves back from reaching the masses with their judging process for the Awards themselves, which I believe will need to be re-balanced if they truly want to be a "can't miss" awards show each year for Australians nationwide.
I can't understand how artists who don't sell many tickets, or even chart high on the ARIA charts, actually win ARIA awards – it's very confusing.
If an artist can't sell many records, get many streams, or sell many tickets, but they still receive an ARIA award, why would the Australian public care? If the ARIA Awards are truly focused on being a consumer event rather than just an industry night, then the winners need to appeal to the Australian masses. The best way to get Australians to tune out of the ARIAs is giving award after award to artists they've never heard or care about. That is the unfortunate truth.
I spoke about this with Annabelle and she argued my view was unfair and didn't take in the full picture. This year, the ARIA Awards were won by three Grammy-nominated artists with massive fan bases including Dom Dolla, Troye Sivan and Kylie Minogue. ARIA also had the highest number of public votes in five years.
Troye Sivan, 2023 ARIA Award Winner
Annabelle has a point, but I think it's all about balance. Artists who don't have material fanbases should be winning a small percentage of the awards, rather than a 50/50 balance of artists Australians love vs artists our industry loves.
Annabelle also confirmed the judging process for me which does seem very well thought through. For those who don't know it is as follows;
The judging panel is reviewed every year to ensure there is the right balance of music industry and media
Everyone has 1 vote, and no judge has a vote that is worth more than 1 vote
All the major labels have an equal amount of staff voting
So with the year-on-year revision of the judging panel in mind, and that ARIA have taken a huge leap to get back into the hearts and minds of Australians it will be interesting to see if the balance of the winners changes over time.
My opinion on who wins ARIA awards and how they should be judged are just that, my opinion. I'm sure there are people who don't like the way we judge and select Rolling Stone Award winners too. No award process can please everyone.
But my main takeaway from last night is that ARIA winners need to be interesting and exciting to the Australian public, the balance of platforming artists without meaningful fanbases yet who our industry loves vs. celebrating our most successful Australian artists is maybe the most important challenge for ARIA moving forward — now that they have nailed their event and broadcast.
The Performances
The performances on the night were a huge highlight, my favourites were Jessica Mauboy, Budjerah, Brad Cox and of course Jet.
Jet: Hall of Fame
I found the controversy from music industry people and experienced journalists about their induction into the ARIA Hall of Fame so stupid, many arguing there are other artists more deserving, which is an ignorant view on so many levels.
Firstly, if there are artists that deserve to be inducted into the ARIA Hall of Fame, they will be. This isn't a zero sum game, artists will be inducted for years to come so it's not an "either/or" decision. Also, sometimes artists work with ARIA on when they'll be inducted. If an artist gets approached by ARIA to be inducted into the Hall of Fame, they may request to be inducted at a later year when they have new activity or things to promote rather than just taking the induction at a random time.
Secondly, any suggestion that Jet aren't worthy is pathetic. They literally introduced the iPod to the world and changed the way Australian rock bands thought of sync forever. This doesn't even take into account their staggering commercial success. Jet are Australian icons.
Annabelle Herd summed it up perfectly, reporting to The Music Network that, "We had a very clear vision on what we wanted this year, and last night delivered on that".
Amen Annabelle, both you and ARIA should be very proud about what was achieved last night. An incredible new chapter for our industry, congratulations.
From The Music Network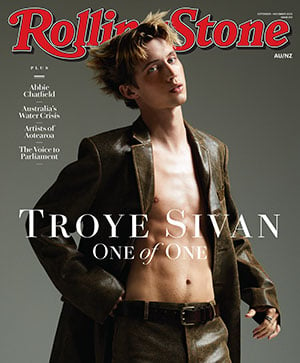 Get unlimited access to the coverage that shapes our culture.
Subscribe to Rolling Stone magazine
Subscribe to Rolling Stone magazine