Roosevelt released his fourth album, Embrace, last week, and it's a very fitting title.
Created around the world in Barcelona, Los Angeles, and New York, the German indie/electronic artists embraced everything life has to offer – he got out of the studio for a change and soaked up the atmosphere and inspiration of vastly different cities.
The result is one of Marius Lauber's best produced records, filled with both light melancholy and euphoric dance energy. And with his biggest North American tour kicking off this month, 2023 will be remembered by the musician as a year of growth and big moments.
To celebrate the release of Embrace, Tone Deaf caught up with Roosevelt to discuss his new album, working with Nile Rodgers, and his excitement about taking his music to North America.
Roosevelt's Embrace is out now. 
Love Indie?
Get the latest Indie news, features, updates and giveaways straight to your inbox Learn more
JOIN
Tone Deaf: When did you start working on Embrace?
Roosevelt: The whole campaign for [2021 album] Polydans was just super long, both because of how early we put out the first single, I think June 2020, even though the album came out in the new year in 2021, but also because of COVID, everything just was delayed for ages. At some point I was a little exhausted by it and for a while I thought, I just want to live in a in a city that's nice, experience a new city, and just live there for a year. That was early in 2022, so early last year. And I just had this kind of epiphany moment where I realised that my brain never stops working on music and that it's, for me at least, something I can't consciously stop doing.
It just happened very naturally that more and more ideas [came into] in my head. I think at some point I was just very bored not doing music. And then I think there was a point where I didn't want to go back to Cologne in my studio. The contrast was too big from touring and being super isolated in Cologne, and I think that's why I kind of stayed in places that I want to be in. Which were on this album, Barcelona, New York, LA, but also outside of LA in California. I kind of built these improvised studio settings – sometimes it was just a laptop and a microphone, sometimes it was a bit more sophisticated.
I had this cabin in California where there were three or four synthesisers, a couple of guitars, but it was all improvised and all kind of outside my comfort zone. It was never in acoustically treated rooms, but always very DIY and improvised.
How has being in different places all over the world shaped the record?
I think this mindset of being away from home and being outside of my comfort zone just gave me a bit of perspective on where I am in my career. It's just my passion and what comes out of me, and you never know how the record would have sounded if I would have come back to my studio.
I think the last record was, I hate the phrase "concept record", but at least Polydans was a very focused project in terms of it was like a very nostalgic '80s synth-wave album. I'm bad at describing genres, but at least I see it that way.
And I think Embrace is more of an open collection of things. There are moments on this record where it feels very dense and more layered than ever, maybe on the intro, "Ordinary Love", and also on "Fall Right In". And then there are moments where it's stripped down as it never was before. I feel like there was maybe a lack of concepts, but maybe that was also the concept. I think for me personally, it was important to have this perspective and to maybe take a step back rather than just rushing into the recording again.
It was just super inspiring to be in different places and to open my laptop, let's say in Barcelona, with a demo that I did in New York. And it did something to me that just going in the same room every day wouldn't have done." 
What topics do you explore in Embrace?
Subconsciously I wrote about the feeling that I had earlier last year when I wasn't sure if I wanted to rush right into recording and take a break. There are songs on this record, like "Fall Right In" and "Lake Shore", that deal with a certain hiding from things where you're aware that they may be good for you and hiding your emotion.
I think these lyrics are kind of a note to myself, trying to encourage me to live these moments to its fullest. I realise that on tour a lot I think to myself after a great big festival show that maybe I could have enjoyed it more and maybe should have been more in the moment. And this is something I also have in my private life – I sometimes have a hard time to fully immerse in a specific moment, in a specific emotion.
I think Embrace was a working title way before I thought about the lyrics and I wrote them. In hindsight, the title makes sense on this layer, because it is about embracing a certain situation, a certain emotion, that you're in rather than trying to run away from it
Has turning 30 affected the album?
I think so. I think, maybe five, six, or seven years ago, I wouldn't have thought about these things. Coming from a small village, it was a little bit like seeing friends of mine in the same age now, just having developed a completely different lifestyle and maybe a more conservative or normal one. Maybe I'm still having a hard time fully seeing this as my job, and that's maybe why turning 30 made me think about all [of] these things, which obviously is nonsense because why wouldn't I continue doing this?
That was the very first moment where Embrace as a working title came about. There was just this pure kind of note to myself to embrace this kind of lifestyle and embrace my career and also have some kind of pride in it, which maybe a couple of years ago I would never have had.
How does the sound of Embrace differ from your previous albums?
I think it's just not as focused as Polydans was. I think it leaves more space on the album. I think there's almost trance moments, very club moments on "Rising". There's a very stripped down ballad on "Lake Shore". There's a track like "Fall Right In", which is influenced by indie/shoegaze bands from the late '90s. Maybe I left myself more routes to be discovered in the process. That's why it kind of feels more like a mixtape or a chapter in my life where I wrote these songs.
It seems like as much as your songs are dance music, there's still a slightly melancholic touch to them. Do you agree?
I do like dance music the most when it has hidden layers, so to speak. I have a lot of memories of standing on dancefloors all over the world as a guest, maybe at a festival, maybe at a club night, whatever it is. And the moments I loved the most were always the ones where it wasn't fully hedonistic and wasn't fully functional, but it was always the ones where there was some kind of bittersweet moment, some kind of melancholy.
I think it does something with the crowds, like it creates this sense of togetherness as soon, I wouldn't even call it sad, but as soon as there's something deeper or something kind of mysterious brought to the foreground.
How was it working with Nile Rodgers on "Passion"?
I mean, it's still surreal to me and weird thinking about it, but it came together through my manager who knows Niles' manager, so [it was] a very unromantic music business connection. Nile is very picky in the stuff that he works on, even though he does a lot of features. So, I think it took a lot of convincing, but in the end my music convinced him to do it.
The most memorable experience was when Nile actually called me on my phone because my manager gave me his number, and so I already saved it on my phone. He told me that Nile always likes to talk to the people that he works with, and so I had his number saved on my phone. And I remember one morning, really early in the morning, I just got this: 'Nile Rodgers is calling.' I was just the most nervous me that I ever was.
It turned out to be a one hour phone call with one of my heroes, just kind of talking about anything, talking about making music, talking about his journey, talking about where I come from. He really was humble, and was trying to get me on his level, which was a very humbling experience.
What can we expect from your upcoming tour?
On the one hand, it's going to be special for me because I can pick from four albums now, and I think I have more of the confidence to create little chapters in the live show. It's going to be a longer show.
It's also the ten year anniversary this year of my first release, so it just feels like a different show because of that. But on the other hand, it's also going to be a Roosevelt show and I want to continue doing what made the show special to me, which is kind of playing more energetic and powerful, dynamic versions of the album [tracks]. I think people who come to shows in general don't want to hear a complete reproduction of what they already know on the record – they always want to hear a live version. And to me, with dance music, it's a lot about the energy and a lot about the dynamic.
You've found some success in the US. How rare is this for a German indie/electronic act?
The funny thing is that in the States or in North America, it's not really a topic at all that people talk about. It's not in interviews, it's not in my crowds. I mean, some fans come up to me and say like, 'Oh, we didn't know you were from Germany.' It's like a fun side fact or something. I always really enjoy that it's not the main part of me or the main story, and my music is in the foreground.
It's never really been my goal to break the market. It's always been very natural, and I had the luck to sign on a British label in the beginning, Greco-Roman in 2013, that already had some fans and some following in the States. I also just toured there a lot. I started playing there in 2014 and this upcoming tour is already my sixth tour or something – it's by far the biggest and longest.
What was it like to sign with your new label, Ninja Tune?
Similar to when I signed with CitySlang so many years ago, I wasn't even aware of how many artists are on the label and I was a fan of the label. Just the size of the label, which has a big standing in the States now also with Counter Records, but still being independent and being close to what I have in mind for the record and pretty much just letting me do my thing, which is super important to me. Something about it felt right and it feels like a good family and a good home for my record.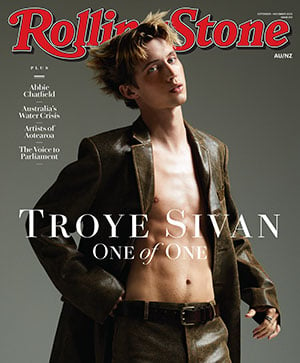 Get unlimited access to the coverage that shapes our culture.
Subscribe to Rolling Stone magazine
Subscribe to Rolling Stone magazine