With an intoxicating cocktail of summer vibes, childhood nostalgia, and self-reflection about ongoing and future adulthood, Perth-based smol fish leave you thinking about life's deeper meanings—but their music, especially their new EP, Crocodile Tears, released last week, makes you want to live in the moment.
smol fish is made up of four members who are also close friends, and together on Crocodile Tears they explore introspective moments, tough decisions, and memorable moments from being young women navigating the tricky transition into adulthood.
Following their 2021 project, sooky la la, smol fish's new EP serves as an impressive follow-up. Its six tracks are nicely polished and thoughtful and sweet, recalling Girlpool, Goat Girl, and Chastity Belt.
It's a release that should project smol fish up a rung or two on the Australian indie rock ladder – there's a reason the band have previously supported the likes of Noah Dillon, Spacey Jane, and Demon Days on tour.
Crocodile Tears contains standout track "Sweet Taste", which the band say "is an exploration of the good that lives within the melancholy. Change is so rapid and constant – hair grows and turns grey, seasons shift, first loves fade, and all this to say that it is easy to turn sour at the state of the world."
The final track "Birthday Party", meanwhile, takes a broad look at identity and where one fits in a world not built with them in mind. You can listen to "Birthday Party", "Sweet Taste", and the rest of the EP below.
smol fish headed to BIGSOUND this week to showcase their music to Aussie music industry insiders. Ahead of their performance, they named some other BIGSOUND-bound artists they were eager to see for Rolling Stone AU/NZ, which you can check out here.
Love Indie?
Get the latest Indie news, features, updates and giveaways straight to your inbox Learn more
JOIN
To celebrate their BIGSOUND trip and new EP, Tone Deaf caught up with smol fish as part of our Get to Know series to find out more about them.
smol fish's Crocodile Tears EP is out now. 
Check out Crocodile Tears by smol fish:
How did your artist name come about?
Hannah: We are small fish in a big pond! There is a fun kind of power in being the little guy, not being too serious allows us to have so much fun with this project. The heart of our band is our friendship with each other and all of the silly times we get to spend together. We always joke about our tagline being "not big" but perhaps just not big yet…
How would you describe your music to your grandma?
Josie: The Beatles for girls.
Cat: It's fun and relaxing and there's lots of good storytelling in the lyrics, you would love it grandma. Also that's me playing the drums!!
Clancy: My nana told me I sound like Olivia Newton-John.
Tell us about a few of your tracks; their titles and what they're about?
Hannah: "Conditionally" is the first single that we released off our upcoming EP Crocodile Tears. The song came together as I was finishing up my degree, going through a breakup and feeling wholly uncertain about what my future was going to look like. "Conditionally" is about seeking out a way to believe in yourself when everything around you is changing rapidly. Learning to take up space and advocate for yourself is a huge journey but I have begun to realise that we can move forward and do it anyway, however, "undeserving" we may feel.
Clancy: "Big Love" explores relationships in my life where I feel big love. New love, old love, familial love, platonic love, relationships that have shaped me as a person and deserve care and respect. 
Josie: "Cry All the Time" is about crying all the time. I didn't write the lyrics but I really felt them.
What do you love about your hometown?
Hannah: I feel that WA's isolation fosters a really special place for community to thrive. Boorloo (Perth) is a city with a small town feeling to it where everyone knows everyone. Thinking specifically about the music scene here, everyone is so willing to lift each other up, share and collaborate, it's a beautiful place to be creating.
Cat: Exactly what Hannah mentioned regarding the music scene! It has been so nice to play at Perth's local venues over the last few years. You end up making so many friends just from seeing each other at gigs every weekend. Also, of course, the beaches. Go Perth.
Josie: Caversham Wildlife Park (I think donkeys are cute)
Clancy: The sunsets over the ocean and Dome Cafe.
Career highlight so far?
Cat: Stuart Murdoch from Belle & Sebastian tweeted about us, which was very cool! Also, we went on a huge ol' tour last year supporting Noah Dillon which was also very cool!
Fave non-music hobby?
Hannah: I love to draw and paint silly little designs on my nails. I am also a graphic designer and adore making fun posters for smol fish and other local bands in my spare time.
Cat: I like crocheting silly little hats and playing cosy video games. 
Clancy: Lego and watching buddy movies with my buddies.
Josie: I love knitting and sewing and making dumb craft things. Made a set of matching fish dresses for us all once…. it was awesome. We also make all our own merch, Hannah on the graphics and we print them!! It's a nice day of fun crafting for us all. Also minecraft. 
What's on your dream rider?
Hannah: Takis, those spicy chips are bloody expensive but so delish.
Josie: Miso soup, it's delicious. I accidentally drank a litre and a half in about two hours a month or so ago.
Cat: If I get a yummy free dinner I am VERY happy.
Clancy: Cranberry juice and a Big Mac.
Dream music collaboration?
Hannah – Lomelda.
Josie: Jockstrap or maybe John Cale. Alvin and the Chipmunks would also be epic.
Cat: Alice Phoebe Lou.
Clancy: The WASO (West Australian Symphony Orchestra).
Where do you see yourself in 10 years?
Josie: Fame and glory with a pet donkey. 
Cat: Being a ROCK star!
Clancy: I will be living with my life partners Hannah, Josie and Cat (ethically non-monogamous obviously). We spend our days making music, being cute, and having dinner parties. 
Hannah: See above.
What's your go-to karaoke song?
Clancy: "100% Endurance" – Yard Act.
Hannah: "Smile" – Lily Allen.
Josie: "Everybody Hurts" – REM.
Cat: "You're So Vain" – Carly Simon. 
What's the best advice you've ever received?
Cat: "Good is better than perfect!"
Hannah: "Never hold in a compliment, it's an easy way to make someone's day."
Josie: "Don't set yourself on fire to keep others warm."
Clancy: "It's important to spend time alone to get to know yourself."
What's one obsession you have that no one would guess after listening to your music?
Josie: I love to watch the cycling. Every year I get progressively a bit more into it, I have since I was about ten. Think Tour de Drance and all the classic big road races. This year Hannah and Clancy made me a cake with bikes on it, super cute. It's so fun to watch – a bit like chess on wheels. No air in my bike tyres though, it hasn't seen any road action in YEARS haha.
Cat: This winter weather has made me really obsessed with gaming. Zelda: TOTK up top! I can also spend hours fixated on puzzles.
Hannah: Getting invested in lesbian TikTok drama.
Clancy: I have kinda been getting into AFL and I love playing kick to kick.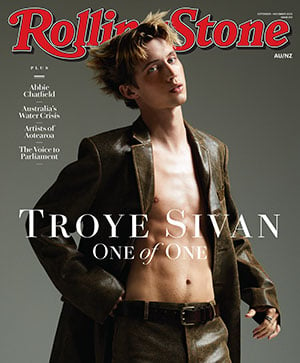 Get unlimited access to the coverage that shapes our culture.
Subscribe to Rolling Stone magazine
Subscribe to Rolling Stone magazine