Tone Deaf and Amrap are continuing in 2023 to ask music directors or presenters at some of the finest community stations around Australia to share their best Australian music finds discovered on amrap.org.au.
If you haven't got your music on Amrap, what are you waiting for? Community radio uses Amrap to source Australian music for airplay.
Anyone can discover all the great Australian music championed by community radio on the Community Radio Plus App, featuring the diverse range of community radio stations nationwide in one handy spot.
This week, Triple R's Simon Winkler contributes with a list of Australian music from community radio you should be listening to right now
Emma Donovan – "Blak Nation"
"Blak Nation" is the latest single by Emma Donovan, one of Australia's most revered voices. Donovan has been a vital force for over two decades, performing with her family members' band, The Donovans, before co-founding Stiff Gins with Nardi Simpson and Kaleena Briggs in 1999, and later releasing her country-inspired solo EP Ngarranga in 2009.
Love Live Music?
Get the latest Live Music news, features, updates and giveaways straight to your inbox Learn more
JOIN
Her prolific collaboration with The Putbacks began in the 2010s when the musicians met during a Black Arm Band tour. The new single represents a return to solo recording for Donovan, bringing an energetic country rock and soul sound.
Lyrically Donovan describes the song as being about "a cultural practice called back burning, we make a cool fire to promote regrowth. The 'cool fire' is a reference to the new generation. Bringing the Blak Nation to the front of this nation, new artists continuing to tell their powerful stories. I'm proud of the progress we have made as a nation. Seeing Aboriginal names of Country & People shared."
Miss Kaninna – "Pinnacle Bitch"
Proudly representing Yorta Yorta, Djadja Wurrung, Kalkadoon, and Yirendali heritage, Miss Kaninna is creating her own sonic universe, described by the artist as Blak pop, with a blend of neo soul, hip hop and alt rock. A sequel to the immense single "Blak Britney", Miss Kaninna's latest tracks are empowering anthems of respect and representation, and a call to dismantle oppressive structures.
Mindy Meng Wang & Sui Zhen – "空 | Kōng | Emptiness"
Beloved local artists Mindy Meng Wang 王萌 and Sui Zhen present "空 Kōng" (Emptiness), the captivating ten-minute opening track from their debut album, Origin of You. This meditative composition melds Sui Zhen's evocative spoken word with Meng Wang's reflective guzheng improvisations, culminating in a tape noise and organ drone fade-out.
Inspired partly by Chinese poet Li Bai's "静夜思 Quiet Night Thought", the album delves into themes of loss, rebirth, and the profound connections forged beyond bloodlines. The duo's poignant exploration of womanhood, motherhood, and familial ties will release on November 10th.
Ella Thompson – "Never Fight the Way You Feel"
"Never Fight the Way You Feel" by Ella Thompson is an enthralling voyage into psychedelic soul that masterfully channels vintage Italian Giallo film soundtracks, blending them with modern soul elements. Featured on her forthcoming album Domino, the track's instrumentation was crafted by Frollen Music Library, Ella's longtime collaborators from Karate Boogaloo.
Inspired by their soundtrack work which evokes classics of the '60s and '70s, Ella has said she wanted to "capture the immediacy of the emotion I felt when I first heard the instrumentals by writing and recording the vocals from a place of flow, turning off the critic and letting the songs come out."
Speaking more specifically about the the nature of this song, Ella describes "Never Fight the Way You Feel" as "a song yearning for reconnection, time can create distance with important people and our lives can move in opposite directions, sometimes we can fight the urge to reach out, but we never really know what's going on until we ask."
Yirinda – "Thurum Voi (Look There)"
Meanjin's Yirinda, the duo of Fred Leone and Samuel Pankhurst, present their second single "Thurum Voi (Look There)", set to be featured on their self-titled debut album releasing next February via Chapter Music.
Fred Leone, one of only three Butchulla Songmen, performs songs in the endangered Butchulla language, while Samuel Pankhurst, an acclaimed contrabassist and producer, infuses the music with intricate harmonies and rhythms. Fred and Sam describe the upcoming album as a sensory journey, highlighting their distinct but complementary approaches to music and sound.
The lyrics for "Thurum Voi" were written by Fred's Aunty Nay Nay Bird, an Elder of the Butchulla people and the Wonnamutta clan. "It is a song calling Biral (Butchulla God) down to earth to guide the Butchulla people. Biral is the great sky spirit who ordered the creation of Butchulla country, sea and people," Fred says. The song's immersive production pairs Fred's voice with elliptical piano tremolos, double bass, shimmering chimes and synth arpeggios.
Caro Francis – "Hotter Hotter"
Caro Francis, hailing from Southeast Queensland, masterfully blends forensic sound design and engineering techniques with contemporary pop and electronic music production. "Hotter Hotter" succeeds "Balance It", another electrifying single from earlier in the year.
This newest track arose from a serendipitous studio mishap, where some harmonious feedback sounds became a spark of inspiration. Lyrically the song dances between desire and detachment, pursuit and surrender.
The Belair Lip Bombs – "Gimme Gimme"
This song features on the brilliant Lush Life LP from The Belair Lip Bombs, an ensemble from Naarm/Melbourne helmed by Maisie Everett. The album is described as an exploration of longing, discovery, and the quest for more than the ordinary.
"Gimme Gimme" directly taps into these core themes of seeking genuine connection and escaping routine. Lyrics call for emotional intimacy and a break from mundanity, set to a thrilling mix of 80s post punk and new wave with indie rock.
EXEK – "Welcome to My Alibi"
EXEK's new album, The Map and the Territory, is a distillation and expansion of the band's signature sound, bridging punk, dub, no wave, hip hop, jazz, soul, and even classical arrangements. Songs such as "Welcome to My Alibi" interlace the influences of 90's hip hop and R&B, serving as a bridge between genres. Connecting it all are the distinctive elements that define EXEK's sound, such as the dubbed drums, robotic guitars, and deep synthesizer melodies.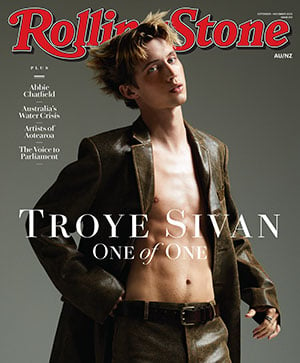 Get unlimited access to the coverage that shapes our culture.
Subscribe to Rolling Stone magazine
Subscribe to Rolling Stone magazine