Tone Deaf and Amrap are continuing in 2023 to ask music directors or presenters at some of the finest community stations around Australia to share their best Australian music finds discovered on amrap.org.au.
If you haven't got your music on Amrap, what are you waiting for? Community radio uses Amrap to source Australian music for airplay.
Anyone can discover all the great Australian music championed by community radio on the Community Radio Plus App, featuring the diverse range of community radio stations nationwide in one handy spot.
Four of the Edge Radio Hobart team – Pete Hampson, Lee Cheong, Naomi Baltyn, and Aeron Clark – contribute with a list of Australian music from community radio you should be listening to right now.
Pete Hampson's Picks
Dennis Cometti – "John Citizen"
Dennis Cometti (the man) was a legendary sporting commentator. Not to be confused with Dennis Cometti (the band), who are a straight down the line punk band out of WA. You know the drill – wrap around sunnies, shorts, blunnies, mullets, ironic moustaches, a passion for beer, and songs about suburban alienation.
Love The Beatles?
Get the latest The Beatles news, features, updates and giveaways straight to your inbox Learn more
JOIN
But there's more to this band than just sharply played, hooky, hard driving punk. Scratch under the surface and you'll find something a little more profound – you'll find a cold, hard, clear-eyed critique of modern life.
"John Citizen" is the opening track from their brand new second record Suburban Condition, and if you're looking for music that truly defines the male Australian suburban experience, look no further.
Good Morning – "Queen of Comedy"
Good Morning out of Melbourne have never been afraid of flirting with the sublime, the beautiful, and the emotional, but on "Queen of Comedy" they have fully committed and the result is, well, sublime. From their new double A-sided single, "Queen of Comedy" is probably closest in style to chamber pop. It positively drips with strings and oozes with a profound sense of sadness.
Written and sung by Stefan Blair and featuring a string quartet arranged by Chloe Sanger, the track comes on like the best bits of late era Beatles. Good Morning are amazingly prolific, yet their sound continues to improve and evolve with every release. Their journey from DIY indie to full blown pop has been fascinating to watch, and I for one can't wait to see what they do next.
Lee Cheong's Picks
REBEL YELL – "Kombat"
Grace Stevenson, aka REBEL YELL, could be Zelda come to life, leading us into the dungeon of their castle where a sweaty dance party is taking place. "Kombat" is the latest taste of REBEL YELL's forthcoming record, DESOLATION, out October 13th. The track is thumping, but her ethereal vocals deliver a message of self-love. Feel the bass and level up.
Maple Glider –  "Two Years"
Tori Zietsch is baaaaack. What grabs me with her latest single, "Two Years", off the forthcoming record I Get into Trouble, out October 13th, is the changing pace of the rolling drums and bass. Tori's voice is like honey being poured straight into my ear canal, but the wit and dark humour of her lyrics is like a bee sting on the hiney. Yes!
Naomi Baltyn's Picks
Echo Omen – "Dappled Shade"
Kwoorabup/Denmark WA-based multi-instrumentalist, vocalist, and producer Matthew Bracknell, aka Echo Omen, is deeply devoted to his craft of creating atmospheric, beat-driven sounds with a voice as unique as it is otherworldly.
Echo Omen's recent single, "Dappled Shade", is yet another excellent highlight of his commitment to releasing a new song for each new moon. Written under the shade of a towering Eucalyptus tree, "Dappled Shade" is capable of holding listeners in a space and vibration that is almost transformative.
Leah Senior – "Springtime Studio"
Leah Senior is a master at her craft, creating beautiful songs that cleverly blend playful pop with bedroom folk. Immediately arresting, Leah's voice is clear and transcending as it takes listeners on a soulful journey as she offers vulnerable reflections on creating and the culture of art.
A romantic reflection on time, "Springtime Studio" is a stunning showcase of Leah's spiritual and honest songwriting. A standout on her most recent album, The Music That I Make.
Aeron Clark's Picks
Sarah Mary Chadwick – Messages to God (album) / "Drinkin' on a Tuesday" (song)
I'm forever thankful that prolific NZ expat Sarah Mary Chadwick jumped the ditch all those years ago. Chadwick's stark confessionals are brutally candid, singularly vulnerable, and painfully insightful.
Chadwick's eighth album, Messages to God, seems slightly lighter than previous work. The sadness is still there, as deep as it always was, but on this record there's a taste of optimism. While Chadwick's heavy soul batters us violently, she also proffers her incredible wisdom to guide us. Few other artists are so skilled at finding beauty in the minutiae of life.
Chadwick (intentionally or not) sums herself up almost perfectly in "Drinkin' on a Tuesday": "you gotta have a song to sing that'll bring you to your knees with its beauty, and you gotta have a joke to tell that'll help you make friends."
Behind You – "The Well" (feat. Rako, Teether, & BAYANG (tha Bushranger))
All hail a new single from experimental punk-rap lords, Behind You. "The Well" shifts effortlessly between passages of sauntering industrial groove and blasts of frenetic chaos. Just as you start to believe you've been assimilated into an abrasive mist of jagged noise, you're given a moment to reset your limbic system and recharge for the next onslaught.
The push and pull between different textures and intensities from Behind You is masterful, but "The Well" is further heightened by the addition of three filthily good guest verses. The melodic barbs of 1300's Rako, Teether's magnetic drawl, and BAYANG (tha Bushranger)'s abrasive spit take this song to another level. I've lost count of how many times I've pressed replay.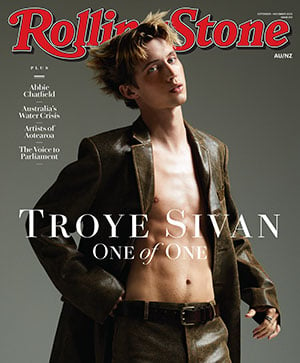 Get unlimited access to the coverage that shapes our culture.
Subscribe to Rolling Stone magazine
Subscribe to Rolling Stone magazine