Tone Deaf and Amrap are continuing in 2023 to ask music directors or presenters at some of the finest community stations around Australia to share their best Australian music finds discovered on amrap.org.au.
If you haven't got your music on Amrap, what are you waiting for? Community radio uses Amrap to source Australian music for airplay.
Anyone can discover all the great Australian music championed by community radio on the Community Radio Plus App, featuring the diverse range of community radio stations nationwide in one handy spot.
2SER's Jasmin Williams contributes with a list of Australian music from community radio you should be listening to right now. Williams hosts Dream State on Sundays. You can follow Williams on Instagram here.
Angie McMahon – "Fireball Whiskey"
Love Live Music?
Get the latest Live Music news, features, updates and giveaways straight to your inbox Learn more
JOIN
"Fireball Whiskey" is the triumphant new single from Naarm-based singer-songwriter Angie McMahon. Taken from her upcoming album, Light, Dark, Light Again, which is set to be released on October 27th.
"Fireball Whiskey" is a cinematic track that delves into and tackles many personal yet universal themes. McMahon's ability to write and convey these emotions is almost unmatched and is a feat she achieves time and time again. 
The bridge and outro of this song build on itself beautifully. Layering and layering until eventually being stripped down to the final line. The last line "love for life" echoes like a record stuck on repeat, reinforcing the core message of the entire song. McMahon should be praised widely for her vision and artistic execution. 
Ruby Archer – "Crazy"
Reigning from the NSW Central Coast, Ruby Archer has proven herself a voice to be reckoned with, following the release of her newest single "Crazy".
Opening with a stripped-back piano riff, Archer's vocals are an immediate draw. Despite only being 18, she holds the power and control of an industry veteran. Unique and dynamic, she commands the attention of the listener, refusing to be listened to in passing. The build from the relaxed nature at the start is quick, and leaves you in awe as it becomes a thick and textured track. Evolving into what feels like a rock ballad, the raspiness and sheer power in her voice cannot be argued. 
Courtney Barnett – "Different Now" (Chastity Belt cover)
Aussie legend Courtney Barnett has shared a cover of indie rock dreams, a laid-back version of Chastity Belt's 2017 track "Different Now".
This light and airy track feels like driving down the coast in an old car with one too many people in it. It is a great example of the classic indie rock dichotomy. It is one of those songs that sound fun and upbeat in passing but is paired with Chastity Belt's masterful and emotional lyrics that cut deep if listened closely.
She has really made it her own in this rendition, proving to be another testament to the talent and sheer musicality of Barnett. 
Carla Geneve – "Euthymia"
Carla Geneve proves herself yet again with her newest track "Euthymia" from her sophomore album HERTZ, which is out October 27th. Geneve is at home in her slower, sullen tracks as well as higher energy tracks like "Bills", proving herself as a versatile and multi-faceted artist. 
Her vocals are on full display, and her lyricism captures such raw and real emotion. She has always been one to delve into the universal human experience, while making it distinctly individual to her own personal experiences which is just one aspect of her charm as an artist. 
There is something so unmistakable and captivating about Geneve's vocals. They are raw and rough around the edges, yet so dynamic and polished. This track is somewhat reminiscent of the tracks off her last album Learn to Like It, but has that extra edge that sets the tone for the anticipated album. 
Hannah Cameron – "Smells Like Leaving"
"Smells Like Leaving" is one of those songs that stops you in your tracks when you listen to it for the first time. Reminiscent of other indie folk legends like Julia Jacklin and Faye Webster, Hannah Cameron is unmistakable and evidently coming into her own. This new track is from her forthcoming album, Holding Pattern, which is out on September 22nd.
Cameron's voice is haunting, and one I don't think people will be forgetting anytime soon. She has proved it in previous tracks, but this one is no exception – her ability to tell stories and back them with such intricacy and strength in instrumentation is something truly special. If this is an indication of what is to be expected from Cameron moving forward, I truly think she is one to watch.
THOM – "In An Era"
THOM's debut release, "In An Era", is a collection of three tracks that firmly sets THOM as a promising emerging artist. Her tracks are full of energy and charisma and are a collection of songs that remind me of the true talent we have here in Sydney.
Edging the line between pop and indie, THOM's beats and energy are infectious, and forces listeners to listen up and dance along. In a combination of chaos and attitude, these tracks are fresh and intoxicating. Her voice is perfect for the medium in which she creates, with her versatility and talent shining through. 
Memory Motel – "Multiplicity"
Memory Motel are one of those bands you'll be annoyed took you so long to find. The Sydney-based indie psych band have turned heads following the release of their latest EP, Multiplicity.
Characterised by their stellar instrumentation, and topped off by Ruby's haunting and captivating vocals, the group have well and truly come into their own and discovered their sound. Their ability to combine elements of some of their inspirations with their own unique direction has resulted in an unmistakable dynamic that has continued to flourish throughout their career. Multiplicity is a dynamic and fluid EP, combining elements of dream pop, shoegaze, ethereal and psych elements that leave you wanting more long after the EP is over.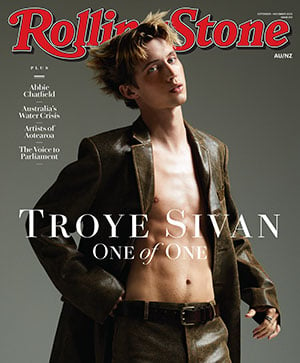 Get unlimited access to the coverage that shapes our culture.
Subscribe to Rolling Stone magazine
Subscribe to Rolling Stone magazine