Tone Deaf and Amrap are continuing in 2023 to ask music directors or presenters at some of the finest community stations around Australia to share their best Australian music finds discovered on amrap.org.au.
If you haven't got your music on Amrap, what are you waiting for? Community radio uses Amrap to source Australian music for airplay.
Anyone can discover all the great Australian music championed by community radio on the Community Radio Plus App, featuring the diverse range of community radio stations nationwide in one handy spot.
This week, Luci from 4ZZZ contributes with a list of Australian music from community radio you should be listening to right now. Luci and Jack host the weekly show 'Zedgeist', which brings listeners everything you need to know in music, pop culture, news, and everything in between.
Check out Luci's music picks and read why she loves community radio so much below:
"We've just wrapped up our annual 'Radiothon' subscriber drive at 4ZZZ, with this year's theme being 'Radio Against The Machine'. It was creatively inspired by the station not adhering to playlisting algorithms and I guess going against the current of streaming services. What I find so magical about community broadcasting is just that – having the opportunity to connect with the listener through a shared passion of obscure musical finds. With that builds a wholesome sense of community that's particularly enchanting within the walls of 4ZZZ."
Love Live Music?
Get the latest Live Music news, features, updates and giveaways straight to your inbox Learn more
JOIN
Lunar Dirt – "Tractor Beam"
Meanjin-based Lunar Dirt initially were a conceptual band with the intentions of performing a live soundtrack for the '70s Japanese sci-fi film of the same name. But what they've ended up with for their two single releases, "First Landing" and "Tractor Beam", is their own re-imagined version of the soundtrack.
For me, this is a deadly combo where live music meets classic cinema. Their live show is certainly theatrical and a definite must-see. Standing in front of an oversized full moon projection, each member of the band is donned in futuristic capes and fairy light type collars. I've since found out those lights actually serve a purpose, to give light to the recall sheets so they can improvise and operate their analogue synths. Wild!
Now a two-piece, Lou and Kurt are no strangers to the scene, having released stunning works in other projects such as Feeding Fauna, glows, and Mess Esque, but Lunar Dirt takes a pretty significant pivot from the sound you'd usually hear from them.
They're gearing up for a Twelve-inch vinyl release in the near future, but until then, we've got two incredible singles from them. There's something about the driving rhythm and metallic, spacey synths in "Tractor Beam" that builds this excitedly ominous soundscape. A beat you can for sure cut an interesting shape to.
EXEK – "Welcome to My Alibi"
There's nothing new I could really add to the conversation about cult status sextet EXEK that you wouldn't already know. They're a mainstay in the Naarm post-punk and krautrock scene, and this hypnotic new single just won't leave my mind. The soundscape is futuristic yet nostalgic at the same time.
This track is a melting pot of celestial jazz, post-punk tension, and straight-up structural pop. Jai Morris-Smith's climbing guitar work seems like some beautiful yet machine-like call and response conversation to Albert Wolski smooth vocals. Those dystopian, dazzling synths and soaring guitar riff could either soundtrack a sparse sci-fi scene or a sun-kissed '80s cop show.  
"Welcome to My Alibi" is the first single off their upcoming record 'The Map and The Territory, coming out via Foreign Records on October 6th. This first release for the new album is a bit of a departure from previous works, so I'm super keen to see what course this record takes. Float through space with this one in your ears or drive off into the sunset in some sort of convertible like. 
Dippers – "Recurrent Sight"
Even though they are significantly embedded in the patchwork of Naarm, a piece of Dippers (formerly known as Thigh Master) will always live in the hearts of the Meanjin community. Featuring former 4ZZZ Station Manager Innez Tulloch and Tenth Court Records founder Matthew Ford, the release also sees jangle dreamboat Dusty Anastassiou (Dag/Permits) lend a hand on a few tracks. Another classic all-star lineup!
Really, what is not to love about this record?!? Whether it's the relatively tongue-in-cheek name Classic Rock, the wonky familiarity of Matt's vocals, witty lines or sweet jangle pop instrumentation.
The latest single, "Recurrent Sight" is my pick of the bunch. Opening with their signature strumming guitar and quirky lyricism, this song takes a wild turn halfway through which sees the remainder of the song turn into a building, swirling synth instrumental operation. I recommend listening to this record while perched in a sunny spot of your gaff and/or garden, sipping on something delectable, while the native birdlife caw in the background. 
fhae – "patience"
fhae is a Meanjin-based experimental solo project by Ellena Ramsay. This one would really hit for fans of folk like HTRK. "patience" forms part of a lush, experimental electronic three-track EP, Liquorice, out via local sweetheart label 4000 records.
The most pointed description I've heard to capture fhae's sound is 'ambient rave'. In saying that, this EP pivots slightly from the ambient workings of their previous releases and more toward creating these really beautiful electronic soundscapes.
"patience" feels the most intimate to me. The bedroom production aesthetic, warped vocals, and spaced out swirling synths is eerily comforting. Yet, when you tune into the lyrics on this track, they're raw, cutting, and assertive in such a poetic way. On top of the two releases they've already put out this year, fhae is gearing up to release their third album, she lives with me, by the close of 2023. Hectic! 
Fig – "I Heard It In My Dream" (ft Caitlin Harnett & the Pony Boys)
This track is as sweet and jammy as the fruit of which the band is most definitely named after (unsure if that is a fact but I'd like to think it is). For me, this is the perfect introduction to the Sydney six-piece. It walks a really beautiful and sweeping line between synth-based post-punk and country heartbreak.
The addition of Caitlin Harnett's vocal melodies balancing lightly atop the textural country infused soundscapes is just whimsical. On the track, the band have said the lyrics are told from the perspective of a deceased couple looking back on their lives. It's just such a stunning and well balanced duet between two insanely talented vocalists. 
During my breakfast show I had a listener text in requesting to hear a sweet song to sooth them into their day, I spun them this track and they were beaming. For this song, I'd recommend listening to this one with a cosy cup of tea in hand or cruising down some lush coastal road with the scent of sweet native flora breezing through ur vehicle. 
New Estate – "Westie"
I DON'T KNOW WHY 2023 WAS THE FIRST TIME I'VE COME ACROSS NEW ESTATE?!? This inclusion is for any fellow fogies that have been left behind on the New Estate train –  it's also led me down the path of Sleepy Township, for which I will be forever grateful.
Their debut record was released in 2004 and since then they've put out a slew of cracker LPs, the last being in 2012. It's been a few years between drinks for them, but in July of this year they put out their stellar studio album via Kasumuen Records, eloquently titled 5. 
Scrappy jangle pop seems to be the key sub-genre terms I've seen floating around for New Estate. In a sense that is pretty spot on, but this record also sounds incredibly polished, with a warming DIY flourish to it. The record's lead single "Westie" stands out as a cute and jangly breath of fresh air. Written during the intense Naarm lockdowns, the nostalgic lyrics paint relatable images of missing a loved one. All elements of the twinkling piano base, energetic strumming layered underneath Mia Schoen's vocals perfectly play in to create a charming ethereal hit! Big fan.
Square – "Repetition"
Meanjin's sweethearts Square have been a staple on almost every local lineup for the last year – and for good reason. Their electric stage presence is truly something to be witnessed and usually consists of vocal cat Tom Czerwinski's pogo-ing around the stage. Aside from their zesty live set, they released their debut EP, Introducing, back in May and (it) has continued on high rotation across a stack of 4ZZZ shows.
It's a tight-knit EP packed with earworms, so it's relatively tricky to pick a stand-alone track. "Repetition" was the final single before the full EP and I feel (it) encapsulates Square's sound pretty neatly. The track drives through elements of post-punk, noise-rock and sprinkles a few Brit-like flavours throughout.
It's a beautiful display of each band member tightly finessing their craft and putting it on full display for a bending and weaving few minutes. Tom's signature drawn-out vocals really dazzle and build toward the end of the track – you can just imagine belting these lyrics out while driving through city streets with your windows down.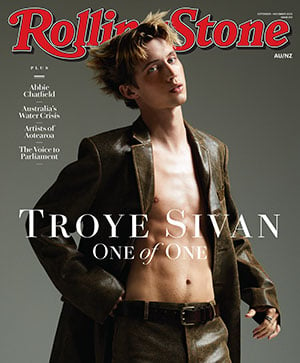 Get unlimited access to the coverage that shapes our culture.
Subscribe to Rolling Stone magazine
Subscribe to Rolling Stone magazine