In just over a week, You Me At Six begin their latest huge Australian tour. 
Beginning in Perth on Sunday, July 9th, the beloved UK rockers will visit Adelaide, Brisbane, Sydney, and Melbourne throughout the rest of the month (see full dates below). Support will be provided by Los Angeles trio Set It Off.
You Me At Six are touring in support of their latest album, Truth Decay, which became their seventh consecutive top 10 hit in their home country, highlighting their relentless consistency.
It will be You Me At Six's first headline tour of Australia in five long years. In lead singer Josh Franceschi's opinion, there's really "nothing like an Aussie crowd."
"Really looking forward to coming back down under. Australia has always been our favourite place to tour and our fans are special there," he said at the time of the tour announcement.
You Me At Six love Aussie crowds but they also really love some of this country's music. To celebrate their upcoming visit, Tone Deaf asked Franceschi to tell us about his five favourite Australian artists. From touring mates to psychedelic rock icons, he really didn't disappoint with his answers.
Josh Franceschi's 5 Favourite Australian Artists
Parkway Drive
Love Tekashi 6ix9ine?
Get the latest Tekashi 6ix9ine news, features, updates and giveaways straight to your inbox Learn more
JOIN
I'm gonna start with the obvious one for me, which is Parkway Drive. We met them when I was 19 and we were doing Warped Tour – and I saw a lot of us in them. But also they were just brutally funny, and they weren't those kind of lads that wanted to sit around and fucking look cool all day. They were like: "do you guys wanna go for a hike? Do you wanna play football?" They wanted to do shit!
Warped Tours was one of those environments where there's bands, especially for us being that age as well, that we'd grown up listening to. With Parkway, I'd only just heard Horizons, the one that's got "Carrion" and "Boneyards" on it. I'd literally only heard that record like two weeks before Warped Tour. And I was like: "this is insane." We became fast friends, and I've always been very invested in what happens to them.
There were two Warped Tours we did together, and you spent the best part of almost six months on and off between those two tours on the road. And there was a point where we meant to come over and do a tour with them in Australia, but our album wasn't finished and we had to cancel that.
But I was watching their documentary recently, I was actually talking to Luke (Kilpatrick) when we were recording Truth Decay because I'd seen that they'd put out a statement about the band not touring. And I was like: "what's going on? Talk to me!" It was important to me for them to know that they had people who cared about them and loved them and wanted them to take their time and work it out.
I think the world needs bands like Parkway Drive, so I'm really stoked that they seem to be in a really great place. And just the shows they put on and the slots they get at festivals and the gigs they play as a headline band – it's just silly. I remember most of the time if you wanted to find Parkway Drive back in those early days, they were watching You Me At Six and vice versa. The amount of times that I saw Jai (O'Connor) and fucking Luke just kind of jumping around to "Stay With Me", taking the piss out of us. For me, they're very, very special people and I'm glad that they're doing well. 
Tonight Alive
My number two has a similar sort of anecdote, it's Tonight Alive. I know that they're on a touring hiatus right now, but obviously Jenna's putting out music, and Matty's drumming for Sleeping With Sirens. But as people, we became very close. Both bands became really good friends, again through Warped Tour, and then we did a bunch of touring around England and Australia with them as well, and we toured America with them.
I always just thought they were super cool and I think they had that obvious lazy journalism of being the Australian Paramore or whatever it was. But it was like: mate, they're nothing like Paramore. Just because there's a girl in the band doesn't mean it sounds like Paramore. It's just boring to hear people say that, it's so basic. They sometimes had weird time signatures, and there's just something about the band that didn't feel obvious. They always had just a really interesting way of writing music, and they're a great live band.
I've always just really, really rated them. I'm sure one day maybe they'll come back and do stuff. Like I said, I know Jenna's making music and Matty's doing stuff. And I think Whakaio (Taahi), last time I heard from him he was in Nashville being a producer, I'm not sure if he's doing it now or not. But they're good people and I'm really glad that part of the You Me At Six history has Tonight Alive involved in it.
Tame Impala
Third, I'll go with Tame Impala – because it's Tame Impala. I don't really need to say too much about this one other than that Kevin Parker is arguably one of the songwriters of our generation. I think what he's done, and then now the crossover he's been able to make into a whole different world where he's collaborating with Rihanna and shit like that – it's just mad!
A story about them: we were doing a festival in Finland and us and The 1975 were trying to get some weed. And basically Tame Impala and Wiz Khalifa had shotgunned all the weed in fucking Finland. We'd arrived on the site, and we were like: "yo, can we get some weed?" And people were like: "nah, it's all for Wiz."
The only other band that had some, because they'd arrived first, was Tame Impala. I think this was the era when they had stuff like "Elephant" out. But, we went over to them and we're like: "yo, can we buy some weed off you please?" I don't even know if the guy was in the band, he just took this huge toke of a joint and went: "nah cunt." And I was just thinking: "that's just so beautifully Australian."
But I went: "yeah, fair enough," and that was the end of our conversation. So, the only time I've had any interaction with Tame Impala was when they basically told us to go fuck ourselves. But as a band, they're incredible. I went and saw them last summer at Victoria Park in London and it was brilliant. 
Yours Truly
I've also gotta include Yours Truly. They're a band I identify with, but also the thing that interests me more is how artists are as people, and is there a baseline level in which I can connect with them. And I definitely connected with them as people and I think they're a really interesting band.
I think they're very early on in what they're doing in their career, but I think they're growing more and more, and their songwriting is getting better and better. And Mikaila (Delgado) is, I think, more and more becoming aware that she has the capacity to seriously be a superstar versus how the rest of the world should see her.
Even on the last tour we did, we watched them pretty much every night, and I can see her growing in confidence, which is great because there's nothing worse than knowing that somebody's absolutely capable, but then for whatever reason, an outsider's influence knocks that. I'm hoping that they can just continue growing and that their trajectory is a positive one. 
DMA'S
Finally, I'm gonna go with DMA'S literally only because of their Cher cover. I was on a stag do in Ibiza, and my best mate's younger brother was like: "can I jump on and put on some tunes?" And that cover of "Believe" was the first one he put on. I was like: "what the fuck is this?!" He was like: "oh, it's DMA'S covering Cher," and I was like: "this is unbelievable." I know that they're absolutely a very successful band and I'm sure they've got an abundance of other tunes, but that is honestly the only one that I know. And it's amazing.
You Me At Six 2023 Australian Tour
With special guests Set It Off
Tickets available via destroyalllines.com
Sunday, July 9th*
Magnet House, Perth, WA
Tuesday, July 11th**
The Gov, Adelaide, SA
Thursday, July 13th*
The Tivoli, Brisbane, QLD
Friday, July 14th**
Roundhouse, Sydney, NSW
Sunday, July 16th*
The Forum, Melbourne, VIC
*18+
**All Ages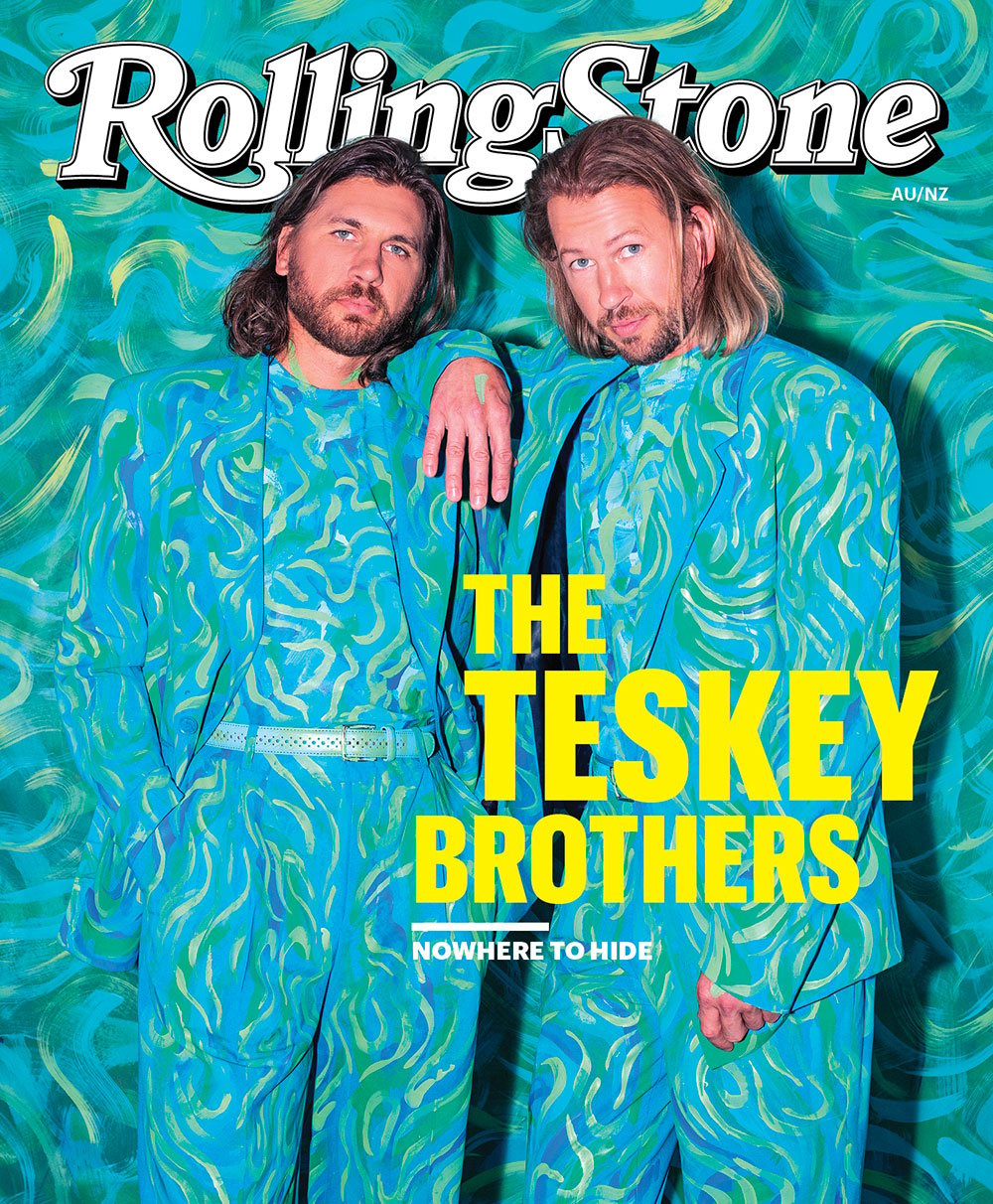 Get unlimited access to the coverage that shapes our culture.
Subscribe to Rolling Stone magazine
Subscribe to Rolling Stone magazine