Troye Sivan courted (mild) controversy with the music video for his thrilling single "Rush", but his latest music video hasn't caused quite as much commotion. 
If you dig under the surface, though, there's a lot going on. The music video for "Got Me Started", the second single off Sivan's upcoming album, was released last week, and it feels, sounds, and looks like the kind of indie film that instantly makes you look better for having seen it. 
Sivan is creating a cinematic universe unto himself, which is why we should all be invested. 
The music video for "Got Me Started" was entirely filmed in Bangkok, Thailand, and is dripping (or sweating) with beauty. It features clips of Sivan sitting naked in a bathhouse, answering old school phones, and dancing in a disco ball jump suit on a helipad, as you do.
Directed by Gordon von Steiner, the video begins with a voiceover from Sivan himself saying he felt like he was "incapable of feeling anything for a long time," as clips of a neon-lit Bangkok pass by. It feels like Sivan is having a late-night conversation with us about our biggest feelings.
Upon closer inspection, the video also references the work of legendary Hong Kong film director, Wong Kar-wai. The start of the video is a tribute to the kitchen dance scene in the filmmaker's 1997 classic, Happy Together, which depicts the tumultuous relationship between two men.
Sivan's video also makes other clear references to Asian cinema such as In the Mood for Love (2000). So, if ever there was a moment to dip your toes into classic Asian cinema, it's now..
Sivan's third studio album, Something to Give Each Other, is due to be released on October 13th. Take this video as evidence that you should be very excited for what's to come. And Sivan, while you're at it, do you fancy making a feature film? 
Watch "Got Me Started" by Troye Sivan:
Love Pop?
Get the latest Pop news, features, updates and giveaways straight to your inbox Learn more
JOIN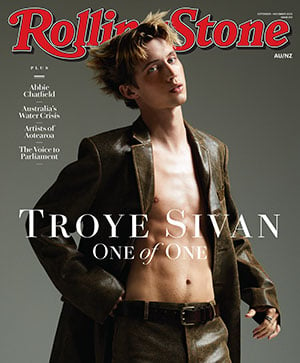 Get unlimited access to the coverage that shapes our culture.
Subscribe to Rolling Stone magazine
Subscribe to Rolling Stone magazine