Tone Deaf and Amrap are continuing in 2023 to ask music directors or presenters at some of the finest community stations around Australia to share their best Australian music finds discovered on amrap.org.au.
If you haven't got your music on Amrap, what are you waiting for? Community radio uses Amrap to source Australian music for airplay.
Anyone can discover all the great Australian music championed by community radio on the Community Radio Plus App, featuring the diverse range of community radio stations nationwide in one handy spot.
This week, FBi Radio's Lindsay Riley contributes with a list of Australian music from community radio you should be listening to right now.
700 Feel – "5D DUB"
700 Feel have been making some of the most unique electronic music in Sydney in the last few years now. A collaborative project between producers Jonny Rebook and Myspace Juan, their music captures the freeform energy of their live sets – textured, glitchy and pulsating, with feeling and emotion. They draw both from the stories and lives of friends from their hometown Western Sydney, and a deep list of influences including, footwork, UK garage, and dembow. "5D Dub" is taken from part 2 of a double EP, Muscle Memories.
AR the Eternal – "Top Dog"
Love Live Music?
Get the latest Live Music news, features, updates and giveaways straight to your inbox Learn more
JOIN
Keep your eye on AR the Eternal – for me, one of the most technically impressive rappers in Sydney at the moment. He also just dropped a double EP, The Outside Demos, which impressively showcased two different sides of his craft – hard hitting bangers on side A, and smoother, R&B-influenced cuts on side B. AR's part of a really exciting emerging Southwest Sydney scene that I'm looking forward to seeing keep growing in the future.
Ashli – "New Feelings"
Another artist poised for big things, Sydney artist Ashli combines heart-wrenchingly honest songwriting with warm, 2000s R&B production. Every song she's dropped so far has been a hit, and her talent is scarily good – she has one of the most incredible live voices I've ever heard. 
EXEK – "Welcome to My Alibi"
It's no surprise that Melbourne band EXEK are a band that's turned heads internationally. There's really nothing else like them – notes of post-punk, krautrock and jazzy prog rock, but wrapped in a mysterious and elusive haze. I've seen them described as "Lynchian' which I think sums it up well. This is a track from their latest record, The Map and the Territory, which is probably one of the better entry points to the band if you haven't checked them out before. 
Gift Exchange – "No Theme"
Gift Exchange turn back the clock to the 2010s, reviving the witch house genre with a punkier, epic upgrade. This is a track off their debut EP, Before the Dust Settles, and even if you're not familiar with the genre, check it out if you like music that's super layered, cathartic, and a little scary.
Miss Kaninna- "Pinnacle Bitch"
Following on from her debut single "Blak Britney", we've been really loving Miss Kaninna's new single "Pinnacle Bitch". It's a staunch, bouncy and hard-hitting track from the Yorta Yorta, Djadja Wurrung, Kalkadoon and Yirendali artist. She's also a sick live performer, performing an amazing set the other week at FBi Radio's SXSW Party at Pleasures Playhouse.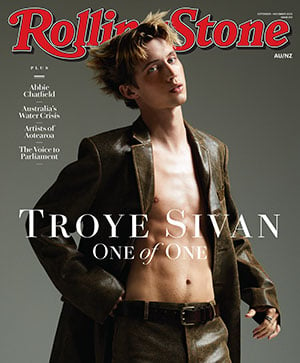 Get unlimited access to the coverage that shapes our culture.
Subscribe to Rolling Stone magazine
Subscribe to Rolling Stone magazine