Tone Deaf and Amrap are continuing in 2023 to ask music directors or presenters at some of the finest community stations around Australia to share their best Australian music finds discovered on amrap.org.au.
If you haven't got your music on Amrap, what are you waiting for? Community radio uses Amrap to source Australian music for airplay.
Anyone can discover all the great Australian music championed by community radio on the Community Radio Plus App, featuring the diverse range of community radio stations nationwide in one handy spot.
This week, RTRFM's Cat Wrangler contributes with a list of Australian music from community radio you should be listening to right now.
ANESU – "Mrs Jackson"
Love Live Music?
Get the latest Live Music news, features, updates and giveaways straight to your inbox Learn more
JOIN
ANESU has been a mainstay on lineups and radio playlists for the last three years, since dropping their debut single, "Black Girl". Born in Zimbabwe and located in Boorloo/Perth, ANESU is an activist, poet, and musician who platforms their queer identity with pride. Their latest release, "Mrs Jackson", is a smooth, straight-up jam. ANESU's vocals dance through the wavy beats, with the whole thing produced and packaged up by Boorloo/Perth newcomer ROC.
While I don't recommend this for safety reasons, I reckon this track could be best enjoyed driving along the coast on a balmy evening with your hand out the window just a little, catching the wind like a sail.
RATSALAD – "Memory of Feeling"
Salty, anthemic punk out of Jambinu of the Yamatji Nation, aka Geraldton. RATSALAD are a three-piece born out of a kitchen in the coastal mid-west of Western Australia. The urgent chorus sounds like it was written to be shouted back at the band from a sweaty crowd and Ken, the band's guitarist, lends some great, ripped up vocals to the bridge. It's just really good, satisfying punk. 
Ghost Care – "Arcade"
"Arcade" is the latest single from the local, Boorloo-based, alt-pop three-piece. Having just landed home from touring the track nationally, it's easy to see why "Arcade" is resonating with listeners. Ghost Care was originally going to be a project between vocalist/guitarist Beau Torrance and drummer Luke Del Fante. Their intention was to collaborate with different guest vocalists for each new release. However, Tanaya Harper, a well loved local singer-songwriter was their first and only collaborator, joining the band.
This single does such an excellent job of playing Beau and Tanaya's vocals off against each other, layering them into a fun, heartfelt narrative.
SWEAT – "I Don't Care"
Punchy, punk rock from the Boorloo four-piece SWEAT. This anthem, celebrating bad dates and boring conversations, will have you shouting down the radio or at your next Tinder date.
Family Shoveller Band – "Muntarurru"
Originating in Bidyadanga, a remote community just shy of 200km south of Broome, Family Shoveller Band proudly celebrate the language and culture of their Karajarri family through their music. "Muntarurru" fuses reggae and rock 'n' roll, retelling the dreamtime story of the Black Wasp with a super fun, danceable rhythm and guitar solos.
Hector Morlet – "We're so Tight It Hurts"
Woozy, funky basslines, sweetheart, falsetto vocals, and a steady percussive line make up the infectious single from Hector Morlet. With lyrics like, "It's true, you jumped into my heart / Like a kangaroo," how could you not fall for this track?
Adding to this artist's charm is the series of shows they've hosted at local Perth and Fremantle venues. Aptly named Hector Morlet's curated evenings of live music and a mystery performer of the circus variety. Would it be a ventriloquist? A clown pianist? Only Hector Morlet knows what we should expect from them next.
Kayps – "BLAKFELLA"
Kayps is the persona or project of Walmatjarri and Bunuba artist and producer Kurrungaya Bieundurry. Having already gained really positive reviews and airtime from his first album, Beauty Among the Chaos, Kayps continues to deliver punchy hip hop beats and epic flow. Kayps recently released a new four-track EP, which you can find on their SoundCloud and Instagram.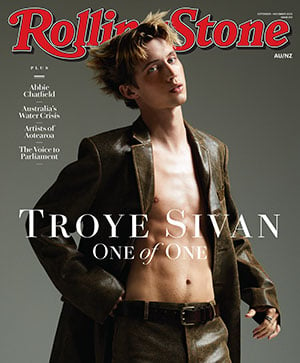 Get unlimited access to the coverage that shapes our culture.
Subscribe to Rolling Stone magazine
Subscribe to Rolling Stone magazine