It's safe to say that Adelaide rockers and best friends Indiago have been making their debut full-length LP for a long time
After 12 years together as a band, COVID-19 ushered in some motivation to do what they'd always dreamt of, and with ideas flowing, the group of five got to work on what would come to be titled The Line.
"We realised we had something special (the band and their long-standing friendship) and that we hadn't, in the last 12 years, actually created a full-length album to showcase who we are," the band explain.
The latest taste of their debut album, "Dream", dropped last Friday, the quick follow-up to last month's lead single "Shade".
"Dream" is packed with energy, fitted with the sort of soaring guitar rhythms that recall Jet or Powderfinger.
"This one is a no bullsh*t, raw, classic rock'n'roll track," as rhythm guitarist Harold Townsend says. "From the palm-muted verses to the clichè chorus lyrics, this one's a lot of fun to play and is already becoming a favourite."
It's rare to come into a debut album with such a solid foundation as Indiago, but over a decade building a fanbase in Adelaide and beyond has served the band well. There's a reason that Birds of Tokyo trusted them with an opening slot.
To celebrate the release of 'Dreams" and their impending debut album, Tone Deaf caught up with Indiago as part of our Get to Know series to find more about the band members and their music.
Indiago's "Dream" is out now. 
How did your artist name come about?
Pretty boring story really haha! Our frontman Will and lead guitarist James used to call each other "Sid" and "Diego", an inside joke from the movie Ice Age (one of the greatest films ever made by the way). The idea came about to mix something up with the name "Diego". One thing lead to another and we landed on Indiago.
It's still the single hardest thing about starting a band! We never wanted a name that gave too much away. We wanted people to hear the name and be intrigued by the music. There are a lot of bands out there where you hear the name and immediately know what they're going to sound like.
How would you describe your music to your grandma?
Look, gran, it's pretty loud and heavy at some points, but we promise you'll like the lyrics and stories behind the songs. It's nothing too crazy, plus there are some really slow, ambient, pretty songs in there. Just give it a crack…
Tell us about a few of your tracks; their titles and what they're about.
There are a few standouts on the record that have already gained a bit of interest, despite not being released yet.
"Shade" (the first release from the album) is a story that explores the notion of being led astray. The temptation of chasing your wildest desires when you know you really shouldn't.
"Bones" is one of my personal favourites. It's a really moving song about feeling alone in such a crazy, busy world as an artist. The idea of hiding your thoughts and emotions when you're at rock bottom. Something almost all creative people go through but not many talk about. Trying to keep your head above water and pay the bills without conforming to a normal day-to-day life.
What do you love about your hometown?
We live in the Adelaide Hills in rural SA. It's quiet, incredibly picturesque, has a tight-knit community, and has world-class, award-winning food and wine. What more could you possibly want!? (But don't tell anyone!)
Career highlight so far?
Would have to be our international tour in China. What an insane experience!
Fave non-music hobby?
We all have quite different hobbies actually! From motorcycles and gaming to ultra running, hiking, and sea kayaking.
What's on your dream rider?
1.3kg bag of Allen's Pineapples and a carton of Sparkling Ale.
Dream music collaboration?
Joining Nothing But Thieves to form a supergroup. Or Jet, because Jet.
Where do you see yourself in 10 years?
A little bit older, a little bit wiser, loving each other and our craft more and more, just sharing it with an even larger audience.
What's your go-to karaoke song?
As a group performance, it would have to be "Bohemian Rhapsody".
What's the best advice you've ever received?
This thing that you've created, be there for each other as you build lives around it. In doing so, you'll never have to leave it behind and it will always be there for you.
What's one obsession you have that no one would guess after listening to your music?
A long time ago on a group hike in the Flinders Ranges, we climbed to a mountaintop where we became adoptive parents of a herd of baby goats. For a small amount of time, we had kids. So began our obsession with goats and parenthood which one of us has actually achieved.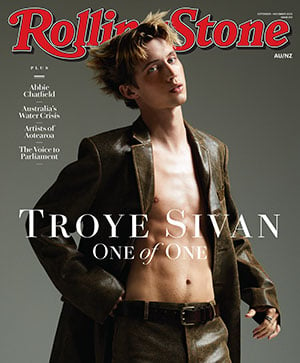 Get unlimited access to the coverage that shapes our culture.
Subscribe to Rolling Stone magazine
Subscribe to Rolling Stone magazine