On a chilly Saturday night in Yarraville, the atmosphere inside the Kindred Bandroom was charged with anticipation.
A grand piano sat centre stage, perched atop a sprawling Persian rug. Its elegance illuminated by the glow of warm red lights that brought this iconic venue to life and set the tone for an unforgettable evening of music.
The special occasion? Award-winning artist, Dan Sultan, was about to take the stage for an intimate live show ahead of his newest album release, hosted by Sailor Jerry Presents.
But before Sultan made his appearance, the crowd was treated to a captivating set from up-and-comer Madi Colville-Walker – armed only with her guitar, silver-sparkled desert boots and killer voice.
Following Colville-Walker, the spotlight shifted to Melbourne-based singer/songwriter  Danika and her trio, whose soulful folk songs had the audience entranced.
Custom Sailor Jerry X Kindred Bandroom cocktails flowed freely throughout the night, alongside American-style BBQ courtesy of Kindred Cafe. The carefully curated cocktail menu added an extra layer of charm to an evening already brimming with excitement.
The Rebel Punch was a crowd pleaser – a delicious mixture of Sailor Jerry with passion fruit puree, fresh lime juice, almond syrup and just a dash of bitters. For others, a Ginger Daiquiri was the drink of choice, featuring a simple mix of Sailor Jerry with lime juice, ginger syrup and finished off with a lime garnish.
Love Live Music?
Get the latest Live Music news, features, updates and giveaways straight to your inbox Learn more
JOIN
At 10pm sharp, the moment everyone had been waiting for finally arrived. Dan Sultan graced the stage to thunderous applause.
Taking a seat on a tall wooden stool with his pearl-inlaid Martin acoustic guitar, he struck the first chord, filling the room with an electrifying sound. The intimacy of the setting was palpable.
Between songs, Sultan spoke directly to the mostly-local crowd, sharing anecdotes of his teenage years spent hanging around the area and going to school in Footscray. His genuine connection with fans was effortless – just one of the reasons why he's considered one of Australia's greatest musicians and storytellers.
After a few songs on guitar, the grand piano, a silent observer until now, beckoned. It was positioned on stage especially for Sultan's special performance, and its big moment had finally arrived.
Sultan's transition from guitar to the piano was met with awe-filled whispers. 'I had no idea he could play piano like that', a couple of friends happily confessed. As his fingers danced across the keys, the room was filled with a newfound energy.
The night was punctuated by songs from his upcoming album, set for release on August 18th. But, of course, he threw in some fan favourites too.
A standout moment of the evening was his encore, an extraordinary rendition of "Old Fitzroy" on the grand piano – a truly unique performance that left a mark on every person who was fortunate enough to witness it.
More than a gig, Sultan's time at Kindred Bandroom was a journey of emotion, stories, and shared experiences. As the final notes lingered in the air, it was clear: this was one of those you-just-had-to-be-there nights. Telling your friends about it? Well, that was tomorrow's problem.
~
If you missed out on this live gig, check out the next suite of awesome music events supported by Sailor Jerry Presents in Airlie Beach throughout September. More information here.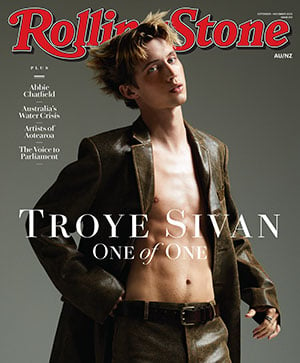 Get unlimited access to the coverage that shapes our culture.
Subscribe to Rolling Stone magazine
Subscribe to Rolling Stone magazine