Lots of artists like to insist that "every song is a journey," but KRUNJ adhere to that philosophy more than most.
Born in Brisbane's underground and underrated jazz scene, they've been conjuring shapeshifting songs that refuse to be pinned down since 2021.
The proudly genre-hopping four-piece use improvisatory jazz as a foundation, flooding their songs with everything from neo-soul to acid psychedelia. The emphasis is on being truly collaborative and exploratory, allowing things to unfurl at their own pace.
It's telling, then, that KRUNJ took their name from a Led Zeppelin song, that most unhurried of bands. The aim of a KRUNJ song isn't to reach a destination but to enjoy the "journey": it's an approach best exemplified in their woozy 2022 song "Drugs", which sounded like Alice deliriously fighting against being put through the looking glass.
One year later, they've released "I Know a Way Out", which has nothing to do with Alice and that looking glass, despite its title, and is instead concerned with the ominous onset of AI and virtual reality.
An accompanying short film, a mind-bending collaboration between the band and VFX artist egumei (Tom Carroll), explores digital entrapment, urging viewers to strike a balance between the digital and physical realms.
"It's a concept that I think so many of us can relate to," says lead singer Kimberley Hanson. "I'd love to turn my phone off and unplug, but alas, I simply cannot. Some of the most potent, yet calm times in my life have been when I've been out in nature or on holiday without reception."

Love Blues Roots & Soul?
Get the latest Blues Roots & Soul news, features, updates and giveaways straight to your inbox Learn more
JOIN
And in their own hazy way, KRUNJ's songs, particularly the almost-soothing "I Know a Way Out", really are a sonic antidote to our hectic modern times: "chill out, listen closely, take your time," their exploratory songs demand.
Following the release of "I Know a Way Out", KRUNJ's big week continues with the release of their new EP, Gritty Bones, on Friday. They'll launch the record with a special show at The Outpost Bar in their hometown on the same day, featuring a stacked lineup of local talent, including My Friend Chloe and Houseplant (more information here).
To celebrate their new EP, Tone Deaf caught up with Hanson as part of our Get to Know series to find out more about KRUNJ.
KRUNJ's Gritty Bones is out Friday, July 7th (pre-save/pre-add here). 
How did your artist name come about?
It actually took us ages to figure out our band name. But there was one specific day when OG (Oliver Gray), our bassist, came into rehearsal and mentioned that he was learning the bass line for Led Zeppelin's "The Crunge". We instantly thought, "hey maybe that'd be a cool band name!"
We played around with the spelling of it (mostly so it wasn't super close to 'cringe' or 'grunge' hahah) and landed on KRUNJ.
How would you describe your music to your grandma?
That's a hard one. We struggle to describe our music because every song is such a journey and an amalgamation of so many influences and genres. 
If I had to offer up one entry-level KRUNJ song to get all the nonna's on board out there, it would probably be "Andy". Gentle on the earholes and a catchy love song. 
Tell us about a few of your tracks; their titles and what they're about?
Well, we have an entire sophomore EP, Gritty Bones, coming out on July 7th! If you compare this EP to our debut EP, you can tell the effects of COVID have clearly had an impact on our songwriting haha.
It's for lack of a better word, grittier, darker and has way more to say. It feels like we've entered a wicked teenage phase. I'll describe the different tracks on the new EP for you:
"I Know a Way Out" – This track was originally written during all the lockdowns and border closures, but has recently evolved into an anthem for unplugging from technology and taking some time out for yourself. Really the messaging in this track could be interpreted in many different ways, but as you can see with the music video, we've taken the latter approach. 
"Lunatic" – This track is all about people in power who are negligent and only care for making more riches.
"In the Summer" & "Gritty Bones" – These two tracks are separated but they go together. The beginning feels like a rollercoaster and the second track feels like a storm. Ultimately though, the lyrics are all about how much I love the summer. I'm a Sunshine State gal, what can I say?
What do you love about your hometown?
Omg, I'm such a Brisbane stan, bare with me. I love the sunshine, I love the CityCats and KittyCats, I love the way the Story Bridge lights up at night, I love a leafy balcony on an old Queenslander in Bardon, I love the Enoggera Reservoir for a swim, but most of all, I love the people and the creatives here. Meanjin has such a vibrant and bustling creative community that I'll always be so in love with. 
Career highlight so far?
For KRUNJ, it would probably be playing Yonder Festival as our second ever gig in 2020. The vibes were high, we all camped together and it was just a really nice time that we look back on fondly. 
We've also gotten to play heaps of special events and music with so many incredible friends from the Brisbane music scene over the last three years.
And apart from the above, it was also a big wow moment for us when our debut single, "What's Next?", featured in Rolling Stone AU! 
Fave non-music hobby?
My favourite non-musical hobby is rollerskating. I absolutely love it. I feel so free when I skate. 
What's on your dream rider?
Bloody Marys, Japanese food (definitely sashimi) and some Mike & Ike Sour Lollies lol.
Dream music collaboration?
Personally, I'm a massive fan of John Carroll Kirby and Eddie Chacon right now. So I'd say them. 
Where do you see yourself in 10 years?
I'd like to hope that we'll all still be jamming and writing music together and hopefully have way more music out for people to listen to.
What's your go-to karaoke song?
This one changes a lot for me, but I always end up doing something with Fergie in it haha. Maybe "Fergalicious" or a Black Eyed Peas song like "Pump It". Sometimes I think I wish I was a rapper from the 2000's.
One time though, I had a birthday party at a karaoke bar and Mahler (Daniel Mahler, our guitarist) chose "My Happiness" by Powderfinger and let's just say it was a raging success, especially when he drunkenly fell off the stage and into the curtains and maintained pitch the whole time!
What's the best advice you've ever received?
Never overthink when a medium-think will get the job done.
What's one obsession you have that no one would guess after listening to your music?
Hmm, probably that I'm currently obsessed with Duolingo and have been simultaneously learning Mandarin and Italian at the same time haha.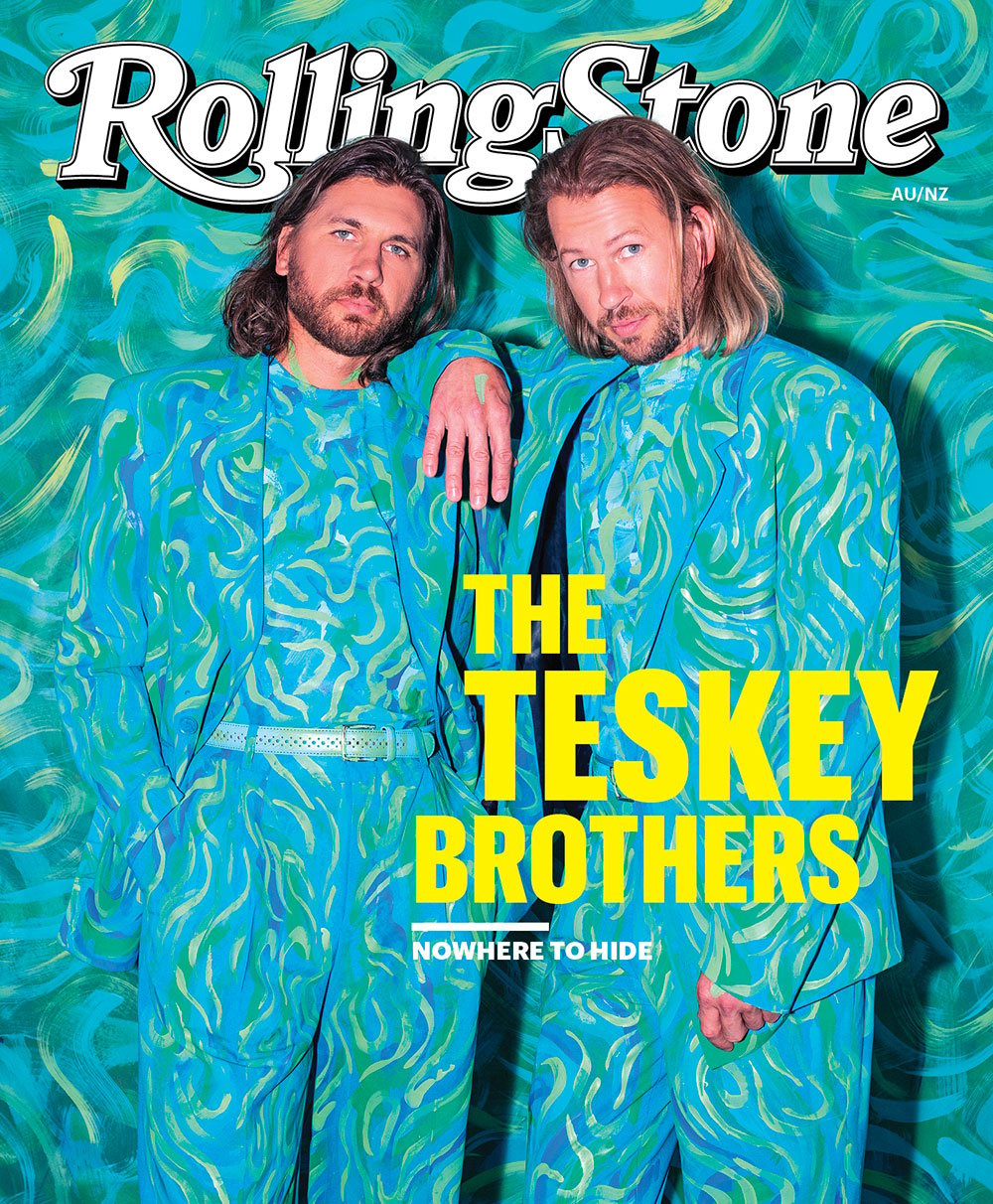 Get unlimited access to the coverage that shapes our culture.
Subscribe to Rolling Stone magazine
Subscribe to Rolling Stone magazine