BOY $COUT GATSBY has shared his long-awaited debut EP, FROM GATSBY WITH LOVE.
Since his debut in 2019, GATSBY has been one of the busiest artists in the country, releasing a flurry of singles
and establishing himself as one to keep an eye on.
He's an artist who doesn't shy away from stepping out of his comfort zone, which is fully evident on his new EP. FROM GATSBY WITH LOVE is extremely diverse and also shows how polished GATBSY's sound already is.
"I've made a lot of different music over the years and that's what FROM GATSBY WITH LOVE tries to encapsulate. There's a lot of different styles and sounds", the rapper explains.
Taking inspiration from a wide range of artists such as Post Malone and Dave, GATSBY covers all bases on his new EP. After recording early demos in his bedroom home studio, he locked in with Tasker, one of the country's most
esteemed MC/producer blends, not to mention enlisting some of the hottest acts in the country in the form of Mason Dane, Babyface Mal, and Oliver Cronin.
Love Hip Hop?
Get the latest Hip Hop news, features, updates and giveaways straight to your inbox Learn more
JOIN
"Lyrically, I see it is an open love letter to everyone that I know, or once knew," GATSBY explains. "I've only ever wanted to be heard, as there were large parts of my life where I felt like I didn't have a voice. With music, I don't feel that shit. I think there's something for everyone on this EP, hope you find something that resonates."
Attempting to cement yourself in a cutthroat environment like the Australian music industry is a tough feat in itself, let alone making a name for yourself outside the country. But that's exactly what GATSBY's been doing so far in his career. "Let Me In", released back in 2020, now has almost two million streams; "Dundee!'" has crossed the one-and-a-half million mark, as has "Bend You Like Beckham".
FGWL took almost a decade to complete, but clearly the rapper has the foresight to see through a vision. "8 years of work, 8 years of blood, sweat and tears. 8 years of me changing my life for the better, 8 years of us", GATSBY adds.
BOY $COUT GATSBY's FROM GATSBY WITH LOVE is out now via 100s + 1000s.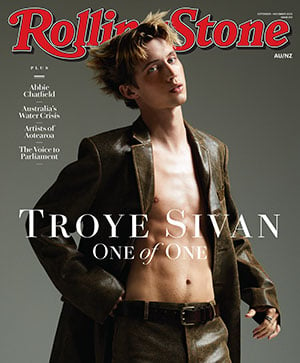 Get unlimited access to the coverage that shapes our culture.
Subscribe to Rolling Stone magazine
Subscribe to Rolling Stone magazine