For Ghanaian/Australian artist Yawdoesitall, a nomination for Best Hip Hop Album/EP at the AIR awards was the result of years of sleepless nights and tiresome days. 
For some people, one creative focus is enough, but for people like Yawdoesitall, one avenue simply isn't enough. He's accomplished behind the lens, on stage, or with a mic in hand, and he thrives in each. However, his music is really what sets him apart. 
His latest release, the curiously-titled "DOOFENSHMIRTZ", is a real attention grabber. It's got silky elements of soul, R&B, and hip hop, but blending genres is nothing new to Yawdoesitall – he's an artist that truly stays true to his name. 
Yawdoesitall might be heading to BIGSOUND this week, but it's not like he's just emerging onto the scene. The musician has just under half a million streams to his name, and impressed crowds on a regional tour of Australia with the award-winning Baker Boy last year. 
His 2022 debut EP Life I Chose was the release that earned him his nomination for Best Hip Hop Album/EP at this year's AIR Awards, Yawdoesitall's record garnering praise for pairing thought provoking and well constructed messaging with interesting sonics.
Before his BIGSOUND appearance, Tone Deaf caught up with Yawdoesitall as part of our Get to Know series to find out more about his life and music. 
Love Hip Hop?
Get the latest Hip Hop news, features, updates and giveaways straight to your inbox Learn more
JOIN
How did your artist name come about?
Yaw is my day name as if you're born on a Thursday in Ghana you're called Yaw. The name Yawdoesitall became a joke as my hands have been dipped in a lot of art forms for the past 5-6 years. My peers used to call me that and it only makes sense as my artist name. 
How would you describe your music to your grandma?
I would tell my grandma [that] my art fuses poetry with hard drums and melodies on some pretty chords.
Tell us about a few of your tracks; their titles and what they're about?
"SWITCH" – This is one of my favourite songs I've made. "SWITCH" started off as an instrumental I almost gave away. It then became my first ever solely produced track. 
"HOLD ON" – A poem I wrote to myself to stay on course with my creative journey. The version out is the second version we made as the song sounded totally different for the most part until a month before release. 
"REFLECTIONS" – This song is one of the songs that I documented everything that happened in life on paper. This was also a poem I wrote about a loved one and turned into one of my favourite songs. 
"ARMADILLO" – This song is special as I didn't expect the outcome. We recorded my verse and made the beat first and then I had to leave. Maina [Doe] then came in the next session and added a hook so we never made this song in the same session together. I re-recorded my vocals but Maina's vocals remain the same from the original and I'm glad people loved it.
 What do you love about your hometown?
I love the city [Sydney]. The city lights up at night and it's a very beautiful view.
Career highlight so far?
Going on tour with Baker Boy. This introduced me to a newer fanbase and it was heartwarming to see someone like him recognise my performance and talent.
Fave non-music hobby?
Watching movies. 
What's on your dream rider?
Nothing much – some food, water, and snacks will do for me.
Dream music collaboration?
Dream collab is with Mike Dean. I wanna spend some time carving sounds with him. There's also the likes of producing for Stormzy, Kendrick [Lamar], and working with P2J.
Where do you see yourself in 10 years?
I see myself touring around the world with my music. I'll be a household name by then and sell out arenas and stadiums. I want to be able to go back home to Ghana and build creative platforms that can help the kids who want to pursue music and arts.
What's your go-to karaoke song?
"Encore" by Jay-Z.
What's the best advice you've ever received?
Stay independent until you're enough to negotiate better deals.
What's one obsession you have that no one would guess after listening to your music?
I'm obsessed with food. I have over 500 posts saved on food in a folder on instagram. This helps me decide what to try or cook next. It's my love language.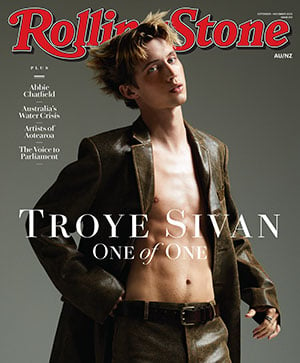 Get unlimited access to the coverage that shapes our culture.
Subscribe to Rolling Stone magazine
Subscribe to Rolling Stone magazine