There aren't many places that All Time Low haven't played. Since forming two decades ago, Maryland's pop-punk titans have appeared at Warped Tour, Reading & Leeds, and any other big festival you can think of; they've extensively toured around the US, UK, Europe, and beyond. 
It might have been a hot minute since they were last here, but All Time Low hold a soft spot for Australia. The band are currently Down Under for a massive Australian tour, where they'll perform in Perth, Adelaide, Melbourne, Sydney, and Brisbane alongside Mayday Parade and Lauran Hibberd (see full dates below).
All Time Low come armed with their ninth studio album Tell Me I'm Alive, which reached the top 40 on the ARIA Albums Chart and the top 20 on the UK Albums Chart, proving their global staying power.
Ahead of their first show in Perth on Wednesday night, Tone Deaf got All Time Low lead singer Alex Gaskarth to reminisce about his band's past Aussie touring memories, featuring metal icons, animal encounters, and much more (read Mayday Parade's Aussie memories here).
Alex Gaskarth's Favourite Australian Touring Memories
SUN, SAND & ANIMALS
It goes without saying, but I think every time an American band comes over to Australia, you have to go and do the zoo tour and the animal experiences. And I mean, getting to hold a koala bear was pretty special the first time. I love those little guys.
I think one of the times we came to Australia and the first time we went to the Gold Coast in particular was a very memorable experience, it was just such a beautiful place. And getting to spend some real quality time there at the beaches and stuff was amazing. I did a little bit of surfing and got stung by jellyfish and it was a great experience. It felt like a very quintessential experience.
Love Live Music?
Get the latest Live Music news, features, updates and giveaways straight to your inbox Learn more
JOIN
FRIENDS IN NEW PLACES
A few of the times we've come over, it's been for festivals. When we were coming over back in the day for Soundwave, one of the first times we did it we were basically in the same travel party as Story of the Year and Yellowcard. We didn't know those guys very well at the time, but because of that tour, we became very good friends with all of them. We went on to do shows and other tours and things, and I would say that honestly coming over to do that festival and getting to travel around with them in particular led to a lot of other things between all of our bands.
So that was really special. I'm still friends with all those guys to this day and it probably wouldn't be that way if we hadn't done those shows. And we got into so much trouble on that Australian run together. It was just so many late night hangs and walking around cities super late at night. It was awesome.
VENUE MEMORIES
In general, one of the best memories I would say is the shows that we've had at some of these amazing venues. Where we're coming to play in Sydney is a pretty iconic stage, we've been fortunate to play it before, but the fact that we're coming back and I think ticket sales are even higher this time – that's definitely up there as a pretty special moment.
METALLICA DOWN UNDER
I have one other great one: the first time I ever saw Metallica live was in Australia because of touring there. I grew up listening to Metallica, they're one of the bands that got me into playing guitar and I had never gotten the chance to see them. But they were over one of the times that we were over there and I got to experience that for the first time in Australia. That's definitely a pretty special one.

All Time Low 2023 Australian Tour
With special guests Mayday Parade & Lauran Hibberd
Presented by Destroy All Lines
Tickets available destroyalllines.com
Wednesday, November 1st
Metro City, Perth, WA
Friday, November 3rd
AEC Theatre, Adelaide, SA
Saturday, November 4th
Margaret Court Arena, Melbourne, VIC
Wednesday, November 8th
Hordern Pavilion, Sydney, NSW
Thursday, November 9th
Fortitude Music Hall, Brisbane, QLD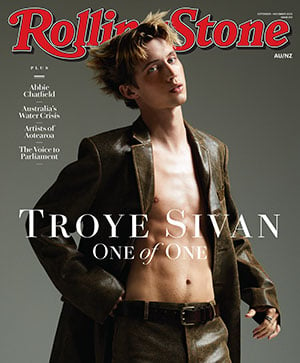 Get unlimited access to the coverage that shapes our culture.
Subscribe to Rolling Stone magazine
Subscribe to Rolling Stone magazine