Image: Dinley Jones/YouTube
A Sydney artist just won big at the Los Angeles International Music Video Festival (LAMV). 
For his stylish music video for "Get Down, Right Now", Sydneysider Dinley Jones and his co-director Roderick Gadaev went home with the award for Best Directing.
The LAMV is a platform for independent artists to showcase their work and gain exposure in the industry. The festival offers artists the opportunity to have their work seen by a wider audience and to connect with other professionals in the industry.
Jones and Gadaev were chosen from thousands of entrants to the festival, and Jones travelled to Los Angeles to represent Australia on an international platform. He even received a notable feature in Australian Music Weekly for his troubles.
You can watch the pair's award-winning music video below, which might not be for the fainthearted: "Viewer discretion is advised; thrilling action, home invasion, destroyed home, heist, crew, balaclava, torture, criminals. This video features empowered women torturing me, please enjoy," the clip's description on YouTube reads.
With an extensive background in theatre and dance, Jones has been working towards success like his LAMV win since he first graced a stage at the tender age of 13. Since then, he's worked with producers such as Bish Malik (Royal) to hone his storytelling and collaboration craft, both of which are on full display in the music video for "Get Down, Right Now".
And Jones has plenty more projects lined up for the future. "Hopefully an EP! More music videos! An album! A tour?! Honestly the sky's the limit, and I am just grateful to be able to do what I love every day. I'm so excited for the journey and can't wait to see where it takes me," he recently told Girl.com.au in an interview.
Dinley Jones' "Get Down, Right Now" is out now.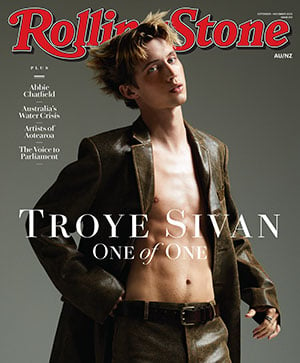 Get unlimited access to the coverage that shapes our culture.
Subscribe to Rolling Stone magazine
Subscribe to Rolling Stone magazine