Between birth and death, time for an important tour.
It's a big month for Sunk Loto: the Australian metal icons are celebrating the 20th anniversary of their 2003 album, Between Birth & Death, with tour dates in Brisbane, Sydney, and Melbourne (see full details below).
A landmark Australian heavy music release, Sunk Loto's second album might have only peaked at number 48 on the ARIA Albums Chart, but it influenced so many future Aussie metal bands.
The album's legacy was enhanced by it seemingly being the Queensland outfit's final release, but that all changed this year when Sunk Loto reformed and  released "The Gallows Wait", their first single in 20 years.
A third album is now in the works, but before that arrives, the band have three special shows to complete. The four original Sunk Loto members will perform Between Birth & Death in full in Brisbane, Sydney, and Melbourne, giving both fans and the band a chance to revisit the mighty album.
One of those members, lead singer Jason Brown, told Tone Deaf about five essential albums that inspired Sunk Loto's sound, from obvious influences to surprise singer-songwriter curveballs. Check out his picks below, and find the band's tour information here.
Faith No More – King for a Day… Fool for a Lifetime
King For a Day… Fool for a Lifetime by Faith No More still stands up for me. I just love the variety, and the way they swing from super aggressive verging on metal – I guess you could definitely call them metal moments in there – and then swinging into sort of jazz vibes, it just ebbs and flows all over the place. 
Ryan Adams & the Cardinals – Cold Roses
This is a bit of a curveball, but it's something that has stuck with me for a long time, it came in after Sunk and sort of gave me faith in music again after I was heartbroken by the finishing of the band. I didn't really want to know about heavy music for a while because it just was too raw. But Ryan Adams, he did an album with the Cardinals, Ryan Adams & the Cardinals, and it's a double album called Cold Roses. And Cold Roses, to me, is a masterpiece.
To write half an album that good… but he's written a double album, which is like 20-odd songs. I can't find a bad song on there. I still can't. And it's still just a go-to for me, I literally couldn't stop playing that album for two years. I was just stuck on it. 
Pantera – The Great Southern Trendkill
The Great Southern Trendkill is probably one of my favourite metal records. It's sort of a contentious one, I think, for a lot of people, especially for a lot of Pantera fans, there's always the debate about what their greatest album is. Is it Cowboys From Hell? Is it Vulgar Display of Power? For me, I still love The Great Southern Trendkill because it captured where they were heading and they were progressing out of that more traditional sound that they had. And I feel like it's their most aggressive effort. If you want to listen to Pantera, you want to hear them at their most aggro.
Sevendust – Seasons
Seasons by Sevendust is another album that's just stuck with me for ages, and it also came out the same year as Between Birth & Death. I remember doing a signing at Skinnys in Brisbane and getting handed that album and putting it on the car on the way to the Sunny Coast and going, 'fuck, this is really good!'
I think I'm especially attached to that album because we toured with those guys in Australia. I think that their first Australian tour was with us for Seasons, and we just formed a really close bond with those dudes, they loved us. They also loved Between Birth & Death and we ended up going to the States with them too. So, I think Seasons holds a special place in my heart because of the relationship with them – and it's also an incredible record.
Tool – Ænima
Finally: Tool – Ænima. I don't know how you can really go past it. No explanation needed.
Sunk Loto Between Birth & Death 20th Anniversary Tour
Tickets available here
Saturday, November 4th
The Tivoli, Brisbane, QLD
Friday, November 10th
The Metro Theatre, Sydney, NSW
Friday, November 17th
Max Watts, Melbourne, VIC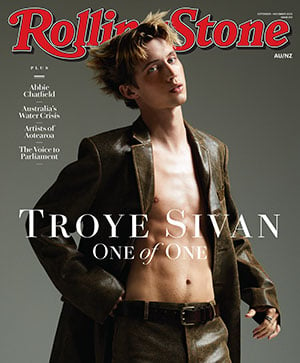 Get unlimited access to the coverage that shapes our culture.
Subscribe to Rolling Stone magazine
Subscribe to Rolling Stone magazine